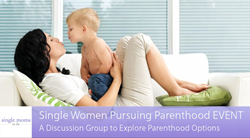 'Deciding to become a single mother is an important decision and we want our patients to feel educated and empowered through each step of the process,' says Lisa Tuttle, PhD.
Norwalk, CT (PRWEB) March 20, 2014
On Monday, March 24, Reproductive Medicine Associates of Connecticut (RMACT) is facilitating a discussion group for single women considering or pursuing parenthood. Topics may include choosing a sperm donor and/or sperm bank; talking to friends, family, and co-workers; creating a support system; sharing a child's story with him or her. This is a chance to meet other like-minded single women to talk about the decisions, emotions and opportunities that women face on the way to becoming a single mother by choice. Light refreshments will be served.
What: Single Women Pursuing Parenthood Discussion Group
Where: RMACT's Norwalk office; 10 Glover Avenue
When: Monday, March 24 from 6:00 – 7:30 p.m.
Who: Facilitated by Lisa Tuttle, PhD, clinical psychologist
RSVP: ccooper(at)rmact(dot)com; No charge but space is limited
"Deciding to become a single mother is an important decision and we want our patients to feel educated and empowered through each step of the process," says Dr. Tuttle, who has been working with fertility patients and single women for more than 15 years. "Having a full understanding of the practical implications and psychosocial aspects of sperm donation, both for the mother and the child, allows mothers to embark on this path to parenting with confidence."
In January 2014, RMACT launched Single Moms To Be, a program designed to meet the needs of single women interested in becoming moms. The program includes a dedicated team with experience helping single female patients. In addition, the fertility practice has developed http://www.SingleMomsToBe.com, an online resource and community.
To learn more, please go to http://www.rmact.com or http://www.singlemomstobe.com.
About Reproductive Medicine Associates of Connecticut (RMACT)
RMACT specializes in the treatment of infertility, including assisted reproductive technologies (ART) such as intrauterine insemination (IUI), in-vitro fertilization (IVF), and Comprehensive Chromosomal Screening (SelectCCS). RMACT, Fairfield County's largest fertility clinic and egg donation center, is one of 11 leading In Vitro Fertilization (IVF) centers nationwide chosen by In Vitro Sciences to participate in its Centers of Excellence program. RMACT has offices in Norwalk, Danbury, Stamford and Trumbull, and an affiliate New York fertility clinics serving Putnam and Dutchess counties. RMACT also offers infertility treatment financing and support services, such as nutrition counseling, massage therapy, psychological counseling, acupuncture and yoga, through RMACT's Integrated Fertility and Wellness Center.
The RMACT team includes lead physicians Drs. Mark P. Leondires, Spencer S. Richlin and Joshua M. Hurwitz, as well as fertility specialists Drs. Cynthia M. Murdock and Shaun C. Williams. All physicians are Board-Certified Reproductive Endocrinologists and are members of the American Society for Reproductive Medicine (ASRM), the Society for Assisted Reproductive Technology (SART) and the Fairfield County and Connecticut Medical Societies. Each has received numerous awards, and all five are Castle Connolly "Top Doctors." RMACT's IVF laboratory is accredited by the College of American Pathologists (CAP), and CLIA; other accreditations include the Accreditation Association for Ambulatory Health Care (AAAHC) and the American Institute for Ultrasound in Medicine (AIUM). For more information visit http://www.RMACT.com or find us on Facebook.