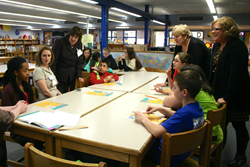 Sponsoring this financial literacy program was a perfect fit for our mission, which is to make good things happen for the people and businesses of Bucks County.
Bensalem, PA (PRWEB) March 18, 2014
Tyler Jones was excited when Bucks County was predicted to have a snowstorm at the beginning of March and disappointed when the storm didn't come.
The adults around him may have been sick of seeing the ground covered with white, but Tyler didn't see white, he saw green – the green of money.
"I wanted to shovel," said Tyler. "I had made $15 raking leaves, and I put $5 of it away and still had $10 to spend at the movies. I wanted to make more money."
At age 12, Tyler is learning lessons about making and managing money that too many adults don't learn, let alone children. That's because he is one of about 20 sixth-graders at Samuel K. Faust Elementary School in Bensalem participating in a pilot program to bring financial literacy to Bucks County schoolchildren.
Sponsored by First Federal of Bucks County, the program began in February and runs for six weeks. On Wednesday afternoons, while their classmates head for the buses, 15 to 20 Faust sixth-graders head for the library. There, they gather in a horseshoe around representatives from the bank – Kirsten Palmieri, Ashley McCorry and Laura Jones Morales – for lessons that range from the basics of spending and saving to the importance of networking and the intricacies of business loans.
The lessons stick with the kids in ways that even the adult leaders might not have anticipated.
"I've noticed how my parents have to work so hard to make money, and it makes me appreciate what they do for me more," said Keila Rodriguez, 12. "It's definitely helping me learn to save more money."
Educating people on how to better manage their money is an ongoing initiative for the Bristol-based bank, which has 11 branches throughout Bucks County, including Levittown, Newtown and New Hope. The after-school program for kids helped round out the bank's community offerings, which also include first-time homebuyers' seminars and significant donations to local charities.
"Learning how better to manage money is an important life skill," said Jeane Coyle, President and CEO of First Federal of Bucks County. "Sponsoring this financial literacy program was a perfect fit for our mission, which is to make good things happen for the people and businesses of Bucks County."
Trained representatives from the bank present the weekly lessons, using JA More Than Money™ materials from Junior Achievement of Delaware Valley. The national program was developed specifically for an after-school market and is presented in schools nationwide, said JA program director Laura Yohe.
Students at Samuel K. Faust have responded with such enthusiasm that the school is hoping to offer a second session later in the year, said principal Colleen Wisler. The biggest hurdle is the lack of transportation.
"It's hard for our kids to stay after school, because we don't have activity buses," said sixth-grade teacher Deborah McCarthy. "The kids are sharing rides home, but even then, not all of them can come every week."
During one recent lesson, Coyle talked to the kids about the success a local yoga studio owner was finding in expanding offerings to include other related products her clients were interested in. Coyle finished her visit with the kids by handing each of them her personal business card and encouraging them to call her directly.
"In a few years, you might be ready to start your own business, and might need a business loan, so knowing someone at a bank would be helpful," Coyle said, adding. "This is your first lesson in networking."
Junior Achievement elementary, middle and high school programs prepare young people with life skills in the areas of financial literacy, work readiness and entrepreneurship, said Yohe. More than 18,000 students in the greater-Philadelphia area are participating in JA programs.
"We love working with businesses that are engaged and excited, and First Federal of Bucks County has been a fantastic partner," Yohe said. "Working with JA to present one of these programs is a great way for local businesses to give back to the community."
For more information about JA programs, please visit the Junior Achievement of Delaware Valley website.
About First Federal of Bucks County
Founded in 1885, First Federal of Bucks County, with $702 million in assets, operates 11 offices throughout Bucks County. Because it is a Federally Chartered Mutual Savings Association, the bank is not publicly traded and is "owned" by the Association's customers. The mission of First Federal is to serve businesses and individuals in Bucks County and the surrounding counties – and to be an integral part of the community. For additional information, visit us at http://www.firstfedbucks.com.