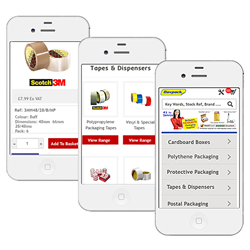 Davpack has always been one step ahead of the game when it comes to making the buying of packaging fast and straightforward
(PRWEB UK) 19 March 2014
As the first in the business to offer a full range of packaging materials and products online, Davpack has always been one step ahead of the game when it comes to making the buying of packaging fast and straightforward for today's busy business owners.
Now the Derby-based company has made its complete range as accessible on the smaller screen of a mobile phone or a tablet as it is on the office pc. That means customers can now take advantage of one of the biggest ranges of in-stock packaging, industry leading customer service and next day delivery no matter where they happen to be.
Davpack's Managing Director Barney Byfield launched the mobile-optimised site and explained why it had been important to make changes to the layout for those using a smaller screen.
"Business is moving faster and faster. You can't necessarily afford to wait until you're back in your office to sort out the logistics behind your latest deal, so being able to order your packaging on the move can give you a significant advantage when you need to meet tight deadlines.
"And as more and more people do all kinds of shopping on their smartphones and tablets, we wanted to make buying packaging as convenient for our customers as it is for them to do their weekly grocery shop.
"We've spent months developing our mobile site to make sure it has all the features it needs to be of optimum value to our customers. With lists of literally hundreds of sizes of cardboard boxes to choose from, for example, finding the one you needed on a small screen used to be a bit tricky – now it couldn't be easier!"
Those wishing to access the mobile optimised Davpack website can do so by simply visiting the usual address, http://www.davpack.co.uk, when using a smartphone or tablet, or call 01332 821200 for more information.