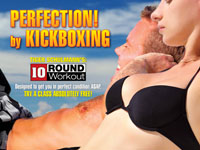 Through Tiger Schulmann's Kickboxing program, you can burn over 800 calories per hour in a safe and fun environment. Increase strength, flexibility and endurance while learning self defense. This is a workout you will stick with because it's always new.
(PRWEB) March 20, 2014
Spring has arrived and people are beginning to consider their options to get in shape for summer. With the arrival of the new season, Tiger Schulmann's Mixed Martial Arts launches a Spring Membership Campaign with discounted prices and some free gear.
Beginning in November, people in the Northeast tend to become more inactive. They go outdoors less, eat more and begin packing on winter pounds. That changes in spring, when the weather improves and people begin seeking fun activities with an eye on losing those extra pounds and getting in shape.
For many years, Tiger Schulmann's Mixed Martial Arts has been sensitive to this trend.
"People come out of winter and don't move so quickly into spring. They know that they are out of shape and looking heavier than they would like. Out comes the swimwear, but it's a larger size than most people are comfortable with," says Alon Feder, Director of Marketing for Tiger Schulmann's. "We offer an incredible program to slim down rapidly, build strength, endurance and flexibility. You also learn to defend yourself at the same time."
Tiger Schulmann's emphasizes authentic kickboxing as the most effective way to drop the extra pounds, get into shape and develop a lifelong, instinctual skill of being able to defend one's self should the need ever arise at any point in the future.
For the "Perfection By Kickboxing" campaign, Tiger Schulmann's will be releasing television commercials, printed ads, posters and fliers, plus a full-court social media blast. The campaign will launch on April 1, 2014 and expire on May 15. The first month of training is greatly discounted plus students receive a complimentary pair of kickboxing gloves and training apparel.
Tiger Schulmann's always welcomes people who are interested in trying a class the opportunity to do so at no cost and with no obligation.