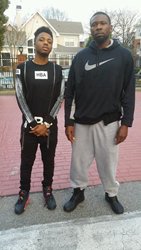 It's not an easy task to name a popular recording artist from South Carolina.
Myrtle Beach, SC (PRWEB) March 20, 2014
On March 19th, recording artist Six9 debuted his mixtape titled "SIX" and music video titled "Boomerang" on worldstarhiphop.com and datpiff.com. The mixtape created many speculations around the unsigned South Carolina artist due to his seemingly out of no where arrival. He also managed to reach three million views within the first two hours of being released on WSHH. His affiliations with known celebrities has also produced a buzz throughout the internet. Six9 has been featured on more than 100 websites since his release, including popular websites like Foxcarolina.com, Walb.com, Katv.com, Kcbd.com and many other news websites.
Six9's music is also available for purchase in over 50 stores worldwide. http://www.six9music.com
Six9 has also brought on board some famous producers and audio engineers any rap music fanatic would recognize such as Atlanta, GA producer Shawty Redd, who produced the first track of the unsigned artists mixtape titled "My 22 by Six9" and also the track titled "S.C. By Six9." Shawty Redd is known for producing for Def Jam Records, Young Jeezy, Snoop Dog, Rick Ross and now South Carolina's very own Six9. It surprised many viewers that such a well-known producer teamed up with the unsigned artist.
Metroboomin, an Atlanta, GA producer, has also joined forces with the South Carolina unsigned artist. Metroboomin produced the track titled "Boomerang by Six9" which has reached three million views on Worldstarhiphop.com. Metroboomin is known for producing music for major label artists, Future and Gucci Mane.
Texas producer Flomaticc produced several of Six9's records including; "Bet you don't by Six9", "IDGAF by Six9", "Inside Her by Six9", "Off The lot" by Six9" and other tracks. Flomaticc is also responsible for the filming of the unsigned artist music videos. Flomaticc has been photographed with popular names in the music industry, such as Lil Jon, Mims, Trae The Truth, Lil Flip. Bun B, Shwayze, Mike Jones, DJ Johnny J, And DJ Penetrate. Flomaticc is the newest producer out of Texas, expect a lot more from this producer and artist in the near future. http://www.flomaticc.com
Several tracks of Six9's mixtape were mixed by popular Atlanta, GA, audio engineer Seth Firkins. Seth Firkins mixed the following songs: "Boomerang by Six9", "Showout by Six9, "Superbad By Six9","Inside Her by Six9", "IDGAF by Six9" "My 22 by Six9" S.C by Six9" and many others. Seth Firkins is known for audio engineering major label artist, Rihanna, Jay-Z, Ciara, Shawty Redd and Future. Seth Firkins is credited to over 2.5 million records sold worldwide and was part of the Grammy nominated team which produced the Jay-Z album American Gangster, which is certified platinum in the United States by the RIAA.
Now is a good time to expand your music collection by adding Six9 to your rap playlist. Check out what the internet is buzzing about. Download his mixtape and listen for yourself.
Press release written by http://www.inthelooplocals.com