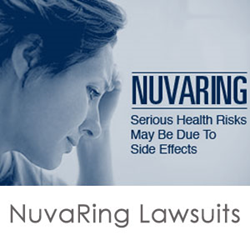 If you or someone you love suffered a blood clot, pulmonary embolism, deep vein thrombosis, heart attack, stroke or sudden death while using NuvaRing, visit yourlegalhelp.com, or call 1-800-399-0795
Columbus, OH (PRWEB) March 18, 2014
Wright & Schulte LLC, an experienced medical device injury law firm representing numerous women in NuvaRing lawsuits, reports that the deadline for opting out of the recently announced NuvaRing settlement has been extended until March 25, 2014. According to court documents, Merck, which manufactures the NuvaRing vaginal ring contraceptive device, agreed last month to pay $100 million to settle thousands of NuvaRing blood lawsuits that are currently pending in state and federal courts around the country.
The NuvaRing settlement was announced on February 7, 2014 in New Jersey's Bergen County Superior Court, where several hundred claims have been filed against Merck. (In RE: NuvaRing Litigation, BER-L-3081-09) According to court records, the NuvaRing lawsuits pending in New Jersey are among some 3,800 claims that have been filed against the drug maker. Additional lawsuits filed on the federal level have been consolidated in U.S. District Court, Eastern District of Missouri. (In Re NuvaRing Products Litigation, 08-md-01964)
All of the NuvaRing lawsuits were filed on behalf of women who allegedly suffered dangerous blood clots, including pulmonary embolism and deep vein thrombosis, which have the potential to cause heart attacks and strokes. Among other things, the complaints claim NuvaRing releases higher amounts of hormones than other hormonal contraceptives, thereby increasing a user's risk for these types of cardiovascular injuries.
Visit Wright & Schulte's website or like us on facebook for all the current news on NuvaRing.
NuvaRing is a once-a-month vaginal birth control ring which is marketed as being more convenient, but just as effective and safe, as oral birth control bills. However, a study commissioned by the U.S. Food & Drug Administration and published in 2011 found a 56% increased NuvaRing blood clot risk, including a higher danger of deep vein thrombosis and pulmonary embolism, compared to oral contraceptives. In the summer of 2012, research published in both The New England Journal of Medicine and the British Medical Journal indicated that NuvaRing side effects included a higher risk of dangerous blood clots, as well as heart attacks and strokes.
[fda.gov/Drugs/DrugSafety/ucm277346.htm; FDA, October 27, 2011]
[nejm.org/doi/full/10.1056/NEJMoa1111840; NEJM, June 2012]
[bmj.com/content/344/bmj.e2990/rr/585117, British Medical Journal, May 2012]
Before it can be finalized, the NuvaRing lawsuit settlement must be accepted by 95% of plaintiffs. Originally, plaintiffs wishing to opt into the settlement had until March 10th to do so. However, court records indicate that the deadline has been extended for 15 days, following the request of several parties.
If the NuvaRing settlement is finalized, court documents indicate that the average claimant would receive $58,000. However, because of the way the proposed settlement program is structured, women who claim to have suffered the most severe injuries, as well as the families of women who allegedly died due to NuvaRing injuries, will receive higher payments.
Wright & Schulte LLC offers free NuvaRing lawsuit evaluations to alleged victims of NuvaRing side effects. If you or someone you love suffered a blood clot, pulmonary embolism, deep vein thrombosis, heart attack, stroke or sudden death while using NuvaRing, please visit yourlegalhelp.com, or call toll-FREE 1-800-399-0795 to learn more about your options for legal recourse.
About Wright & Schulte LLC
Wright & Schulte LLC, a leading personal injury firm, is dedicated to the belief that America's legal system should work for the people. Every day, the attorneys of Wright & Schulte LLC stand up for the rights of people who have been injured or wronged, and fight tirelessly to ensure that even the world's most powerful corporations take responsibility for their actions. If you're looking for a law firm that will guarantee the aggressive and personal representation you deserve, please do not hesitate to contact Wright & Schulte LLC today. Free case evaluations are available through yourlegalhelp.com, or call 1-800-399-0795.
Contact:
Wright & Schulte LLC
812 East National Road
Vandalia, Ohio 45377
1-800-399-0795
http://www.yourlegalhelp.com