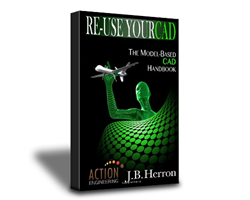 This book is truly a roadmap for the industrial manufacturer looking to move their organization to a model based infrastructure.
Cincinnati, OH (PRWEB) March 18, 2014
Tim Thomas, CEO of CADENAS PARTsolutions, has provided the forward to J.B. Herron's newly released book, Re-Use Your CAD, The Model Based CAD Handbook. Herron, a CAD expert and engineering veteran from the aerospace and defense industry, created the book as a guide for manufacturers looking to bring their engineering processes and data into the 21st century. This subject is near and dear to Thomas and CADENAS PARTsolutions, a company which specializes in aiding industrial manufacturers to better manage digital parts with the PARTsolutions Standard Parts Management (SPM) platform.
Design collaboration and 3D model interoperability are key issues facing engineering and manufacturing firms. Many companies have data in multiple design formats, creating volumes of information which needs to be managed with a Standard Parts Management (SPM) platform. Within the book, Thomas states, "The Re-Use Your CAD Handbook provides a foundational understanding of the needs of a model-based infrastructure, including how to centralize and re-use your CAD database."
Re-Use Your CAD is a resource for engineering managers and design teams looking to transform their 2D design environment into a data-rich, 3D model-based system with detailed metadata. The book takes the reader through the entire process, beginning with foundational information, moving to much more detailed, actionable information. Herron explains the merits of a Model Based Enterprise (MBE), and progresses to more detailed strategies for personnel and software infrastructure, as well as modeling rules and schema.
Thomas, an industry veteran in his own respect, has more than 30 years of hands-on experience, managing design teams and their processes, before founding CADENAS PARTsolutions more than a decade ago. CADENAS PARTsolutions specializes in helping industrial manufacturers to streamline engineering processes with their SPM software.
"I was excited to be a part of this project because the message dove-tails perfectly with what our company has been saying for years. This book is truly a roadmap for the industrial manufacturer looking to move their organization to a model based infrastructure," says Mr. Thomas. "Herron has created a book which demystifies the process, demonstrating a clear path to practical application of the re-use strategy. Engineering teams need to see that by streamlining their processes they can significantly reduce design time, create a better product and save money on the bottom line."
This handbook will instruct the reader in the following:

Explanation of the philosophy of designing products using CAD model-based lifecycles
Implementation guide to model-based commercial (ASME Y14.41) and government (MIL-STD-31000A) standards.
Model-based benefits, risks, and action plans
3D MBD model organizational protocols for part and assembly models, presented CAD agnostically
Part and assembly modeling best practices
Setting up, optimizing and maintaining a model-based infrastructure
An understanding and the benefits of Product Data and Lifecycle Management (PDM and PLM)
About CADENAS PARTsolutions
CADENAS PARTsolutions is a leading provider of next generation 3D part catalog management and sales configuration solutions. For large manufacturers, CADENAS PARTsolutions provides centralized 3D standard part catalogs making it easy for global design teams to find, reuse, and control standard and proprietary parts. For component manufacturers, CADENAS PARTsolutions provides 3D part catalog with CAD download technology to increase sales lead generation and to ensure that components get "designed in" to OEM products. http://www.partsolutions.com/
###
Media Inquiries
CADENAS PARTsolutions
Adam Beck – Marketing Manager
400 Techne Center Dr., Ste. 301
Milford, OH 45150 USA
Phone: (513) 453-0453
Fax: (513) 453-0460
adam.beck(at)partsolutions(dot)com
http://www.partsolutions.com
@partsolutions