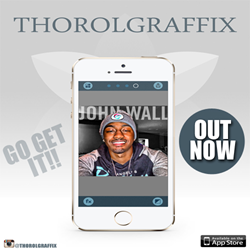 (PRWEB) March 21, 2014
NBA Center Kevin Seraphin announces the release of an all-new, innovative photo editing and social media sharing app, ThorolGraffix™. The app contains unique HDR filters, color masking, multiple text overlays, effects, color gradient overlays, and an easy way to upload edited pictures straight to users' social networking accounts. The app launched on the AppStore® on Friday and immediately rose to the top of the paid charts. It is available for iPhone, iPad and iPod Touch.
"You can literally turn a regular photo into a piece of art in a matter of seconds with the simple user interface we have built for our consumers. ThorolGraffix takes picture editing and sharing to a whole new level," says Seraphin.
The app makes the unique editing style made popular on Instagram (@ThorolGraffix) available to all users through an easy-to-use interface. The step-by-step workflow makes the masking and editing process a breeze for beginners and pros alike. "We know there are numerous photo editing apps already on the market, but we also know there is high demand for these distinctive editing effects on social media," says Joshua Prendergast, who created the famous "SmoothPlay™ HDR" look in 2010.
"I'm excited about this app because as a professional basketball player, I travel all the time and I am always taking pictures," says Seraphin, now in his fourth NBA season. "This app allows me to put my own unique style into my photos and makes it really easy to share them with my family, friends, and fans on my social media platforms."
The first edition of the #ThorolGraffix app is available today with add-ons planned for the near future.
For more information about Thorolgraffix, please contact Joshua Prendergast at (202) 286-3914, send an email to ThorolGraffix(at)Gmail(dot)com or visit the website at http://www.Thorolgraffix.net today.