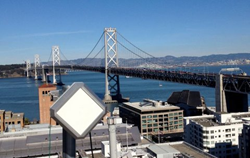 Surprise, AZ (PRWEB) March 19, 2014
Athena Wireless Communications, Inc. today announced a major price reduction across their backhaul product line, comprising the Phoenix™, 80 GHz backhaul link and their A060-Mini™ 60 GHz backhaul link. The Phoenix™ initially listed at $19,999, and is now priced at $6,995 per link, a 65% decrease. Pricing was also dropped on the A060-Mini™ 60GHz backhaul link by 62.5%, from $15,999 to $5,995 per link. Each of these units enable very fast, simple deployment, practically zero footprint and 1000 Mbps throughput coming and going. AES encryption can be added to each link for just $500.
"We've been working hard to streamline our manufacturing and other internal processes," said Eduardo Tinoco, CEO of Athena Wireless. "Our efforts have paid off in the shape of dramatic cost reductions which we are now able to pass on to our end clients."
"Both the Phoenix™ and the A060-Mini™ can transmit data at 1000 Mbps (full-duplex) and include an in-band management interface allowing it to be managed remotely over the Ethernet LAN. Its unique design deviates from industry tradition with the combination small-form-factor and square structure. The A060-Mini™ operates in the unlicensed 60 GHz spectrum with a range of nearly 1 km in most weather conditions, while the Phoenix™ uses the 71-76 GHz and 81-86 GHz FCC licensed spectrums, with a range of up to 3.5 km."
Visit Athena Wireless at the International Wireless Communications Expo in Las Vegas, March 26-27 to learn more about the Phoenix™, A060 Mini™ and Pixie™ LTE small cell systems. We are in Booth 9083.
For more information or to place your order, call us now at +1.623.242.7224 ex. 310.
About Athena Wireless Communications, Inc.
Athena Wireless Communications uses advanced technologies to provide high-speed digital data communication solutions. The company designs and manufactures SiGe-based millimeter-band wireless Gigabit backhaul links and SoC-based LTE small cells for wireless telecommunication operators, governments and private enterprises around the globe. Founded in 2009, Athena Wireless Communications is privately held and is located in Surprise, Arizona. For more information please visit http://www.athenawave.com.
Terry McManus
Athena Wireless Communications
+1.623.242.7224 ex. 310
tmcmanus(at)athenawave(dot)com