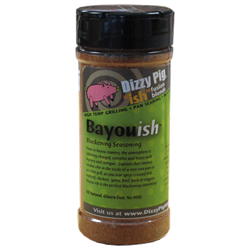 Manassas, Virginia (PRWEB) March 19, 2014
Taking nearly two years to create and perfect, Bayou-ish incorporates the flavors of the bayou, deep in the swamps of Louisiana where bold cajun flavors meet the catch-of-the-day in a hot, sizzling cast iron pan. Bold herbs and spicy chilies round out this blend and make it perfect for not only fish, but for blackening a juicy steak, succulent chicken breast, pork, or even garden fresh vegetables.
With the unveiling of the new Bayou-ish spice blend, the "ish" Fusion Blend line-up is now at four stellar entries. By reworking, re-imagining, refreshing and redefining regional and ethnic signature blends, the "ish" Fusion Blends are remarkable entries to any chef's pantry. While the original Dizzy Pig Barbecue Company blends may conjure images of food from the grill, the "ish" series unleashes flavor without borders or boundaries, as it inspires all styles of cookery, inside and outside, above and beyond.
While it's difficult to capture the essence of any of the ish series without tasting, the other three blends can best be described this way:
Mediterranean-ish blend: Captures the expressive, evocative, exotic and enticing aromas and flavors of the region and brings them, fresh-ground, to your next cooking adventure. To ignite your Greek and Italian culinary imagination, shake on the Mediterranean-ish! Roasts, veggies, chicken, meatballs and more, all come alive with this medley of herbs and garlic flavors.
Bombay Curry-ish blend: A spicy marketplace, fresh spin on classic Indian curry. This blend strikes that delicate balance between heat, savory, exotic and fragrant. No spice blend benefits more from the deft Dizzy Pig hand than does Bombay Curry-ish.
Fajita-ish blend: With this seasoning, we have created the perfect blend and totally nailed the south-of-the-border flavor profile. Fajita-ish showcases an array of spices, chilies and herbs as close to mortar-and-pestle ground as you'll get in a commercial spice blend!
About Dizzy Pig Barbecue Company
Headquartered in Manassas, Virginia, the Dizzy Pig Barbecue Company LLC, founded in 2002 offers the absolute tastiest, all-natural seasonings, hand-blended with only the freshest, highest-quality ingredients. Dizzy Pig currently spins 13 original seasonings plus 4 more in its ish-Fusion Blends line-up. These are the seasonings that the best cooks reach for regularly. The competition team has won over a dozen major events using the rubs, and countless other teams have earned trophies and ribbons for their entries using Dizzy Pig. The team continues to win over judges and followers in 2014 and beyond. With an army of loyal customers and a decade-plus of competition awards under their belts, Dizzy Pig's brightly-flavored and perfectly-balanced spice blends are widely acclaimed. Dizzy Pig seasonings contain no gluten or MSG and can be found at over 700 retailers throughout the U.S. and Canada. For more information or to GET SPUN, visit dizzypigbbq.com.