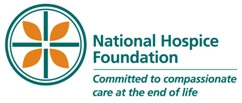 Add a quotable"I was compelled to support the NHF Tribute Project, creating a lasting legacy in Mary Laybak's memory. For those like me who have dedicated our professional lives to hospice, Mary was my hospice touchstone and mentor."
Alexandria, VA (PRWEB) March 19, 2014
Patrice Moore, president and founder of The Watershed Group, is the most recent donor to The Tribute Project of the National Hospice Foundation, honoring her long-time friend and mentor Mary J. Labyak.
Moore says, "I was compelled to support the NHF Tribute Project, creating a lasting legacy in Mary Laybak's memory. For those like me who have dedicated our professional lives to hospice, Mary was my hospice touchstone and mentor."
Labyak, who died in February 2012, was known for her innovative work within the hospice and palliative care industry in the United States.
The Tribute Project provides donors with an opportunity to honor those who have made significant contributions to the advancement of hospice and palliative care delivery.
The Tribute Project is a perfect way to remember a person who gave so much to the hospice industry. "Mary's hospice values and vision influenced my career," Moore says. "I learned more from her than I ever thought possible and enjoyed a friendship that I cherish. Mary embodied the cause she helped to create."
The Watershed Group offers a wide variety of professional services including consulting, talent management and acquisition, and executive coaching.
The Tribute Project is an opportunity for donors to create a tile to be mounted at the National Center for End of Life which houses the National Hospice and Palliative Care Organization (NHPCO) and its affiliates. Tiles may honor an organization, its founder, a retiring CEO, board member, volunteer or another member of the caregiving team; remember the legacy of a family member, colleague or friend; and invest in the comprehensive care that hospice provides.
Funds raised through The Tribute Project support programs at NHPCO that help raise awareness, improve quality and increase access to end-of-life care in the U.S.
To learn more about how you can contribute to hospice and honor an individual or organization, visit the National Hospice Foundation website.
About National Hospice and Palliative Care Organization
NHPCO is the oldest and largest nonprofit membership organization representing hospice and palliative care programs and professionals in the United States. The organization is committed to improving end-of-life care and expanding access to hospice care with the goal of profoundly enhancing quality of life for people dying in America and their loved ones.
About National Hospice Foundation:
NHF envisions a world where everyone facing serious illness, death, and grief will experience the best that humankind can offer. NHF supports the National Hospice and Palliative Care Organization's quality and research initiatives; hospice/palliative care provider education activities; and consumer engagement and caregiver services. In partnership with NHPCO, NHF works to improve care at the end of life throughout the United States. NHF raises funds from individuals, foundations, and corporations to fund programs that make a difference in the lives of the patients and families served by NHPCO's membership of more than 3,400 hospice and palliative care providers.