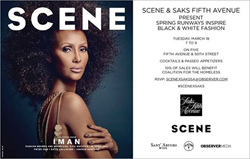 (PRWEB) March 18, 2014
SCENE Magazine will host an event with Saks Fifth Avenue to celebrate the store's contemporary week. SCENE is bringing together its readers for an exciting evening of spring trends, Alacran tequila cocktails and passed hors d'oeuvres. Proceeds during the event will benefit Coalition for the Homeless.
SCENE Magazine is Manhattan's premier luxury lifestyle magazine led by Editor-in-Chief Peter Davis. The magazine is a beautiful monthly that is as smart as it is stylish.
SCENE takes readers front row at Fashion Week and at the center of the world's of art, entertainment, business and real estate. Every issue the city's most interesting personalities bring readers into their homes, on vacation with them and divulge where they shop, eat and hit the town.
Observer Media is a diversified media company that offers readers cutting-edge reporting available on a variety of platforms, written by an editorial staff known for its distinctive and discerning style and wit. Observer Media is emblematic of journalism today – a bridge spanning traditional and digital media, including The New York Observer, Commercial Observer, luxury magazines and Observer national web properties (observer.com, politicker.com, galleristny.com, betabeat.com).
EVENT CONTACT: Observer Media / SCENE Magazine
Zarah Burstein, zburstein(at)observer(dot)com / Phone: 212-407‑9394