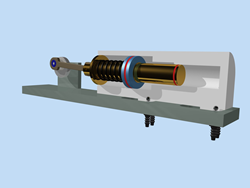 Newly patented pump concept simplifies adjustable liquid mixing ratio continuous flow process.
Skudeneshavn, Norway (PRWEB UK) 19 March 2014
Invented by Loyd Arve Nornes, a hobbyist inventor working in his spare time, DuoFLX, Capillar AS's unique, new, patented pump, promises to revolutionize industrial processes requiring continuous liquid mixing. The simply design means the pump can be manufactured cheaply and easily, and can be modified to fit specific needs.
Nornes invented the pump while working in a two weeks on, four weeks off rotation as an offshore worker. He is a serial inventor, working on projects of personal and professional interest in his spare time to stay intellectually challenged. He and his brother built a biodiesel plant in Nornes' backyard. At first, he made biodiesel in batches, but quickly searched for a way to facilitate continuous biodiesel production. Not finding a suitable solution, he set about to create one. To watch a video playlist demonstrating how the pump works, please visit http://www.youtube.com/watch?list=UUbkMgPZt49myOosES-zxkrw&v=OSnXA98322c.
"I scoured the net to find something that could give me a device with a simple adjustable mixing ratio in a continuous process. The only things I found were expensive and technically advanced solutions. It turned out that there was a larger gap between the batch process and continuous production than I had imagined," he told Norwegian technical magazine, is Teknisk Ukeblad.
The DuoFLX pump is both less complex and less expensive than any other available solution. It consists of a single motor and pump housing with adjustable pistons. Those pistons can be set to pump liquid at varying speeds and in different ratios, letting a user combine two liquids in myriad ratios for any conceivable industrial use.
Nornes worked with a local business incubator to bring the pump from concept to the brink of production. Now he is seeking to license the pump concept for widespread industrial production. Nornes envisions uses in varied fields such as food, pharmaceuticals, chemicals, and he sees the possibility of disposable pumps for things like paint, or manual pumps, for components that are difficult to work with. He plans to use proceeds from pump licenses to fund future inventions.
Manufacturers or investors interested in licensing DuoFLX should contact Capillar AS, Loyd Arve Nornes at + 47 908 33 881, nornes(at)capillar(dot)no, or visit his Web site at http://www.capillar.no/.