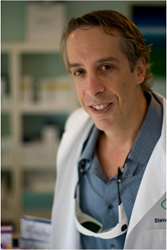 A patient can remove the undesired results of a dermal filler like: swelling, lips that are too large, nodularity, with a simple injection of hyaluronidase by Dr. Weiner.
Destin, FL (PRWEB) March 19, 2014
Hyaluronic Acid dermal fillers are the most popular fillers used worldwide. In the United States, the commonly used HA fillers are:

Juvederm Ultra and Ultra Plus
Voluma
Restylane
Perlane
Belotero
The beauty of HA fillers is that they are very well tolerated because hyaluronic acid is a component of skin, so it is a naturally occurring substance. It's a soft product, and will last anywhere from 4 months, to up to 2 years, depending on the brand used, and the location it is placed.
Another key attribute to the HA fillers popularity is that it can be completely dissolved with an enzyme called hyaluronidase. It is manufactured from either bovine (cow) or ovine (sheep), so there is a remote possibility of having an allergic reaction to the commercially available products (Vitrase, Hydase, and Amphadase). There seems to be a crossover with people that are allergic to bees and these animal derived products. (Hylenex is a recombinant form of hyaluronidase that is the human form that is rarely used due to its expense.)
Hyaluronidase is useful for dissolving HA filler in the following instances:

The filler was overdone and it is not aesthetically pleasing.
There is prolonged swelling, particularly around the eye and most often with Juvederm.
An infection has occurred in the area of prior filler.
The filler is lumpy or has nodules and doesn't respond to massage and time (especially lips).
Rare possible allergic reaction to the HA filler.
When there is vascular compromise secondary to the HA filler injection which can be caused by external compression on a vessel or intraluminal (within the vessel) injection.
When injecting hyaluronidase, it is mixed with lidocaine by the physician, so it is a fairly comfortable procedure. There are a couple limiting factors with the injection. It is not as precise as the filler injection, so it can remove some of the filler that you wanted to stay along with the unwanted filler. Also, dosing/how much to use, is not an exact science. It may take more than one treatment to dissolve the HA filler. The results can occur within minutes, but usually take about a day to appreciate. Also, Juvederm tends to be the hardest to dissolve, and it thought that this is related to the way it is cross linked (manufacturing process).
The bottom line is that you don't have to live with HA filler that you are not happy with. Dr. Weiner can easily reverse lips that are lumpy or too big, swelling around the eye from filler, or dissolve an over correction or asymmetry with hyaluronidase. An injection with hyaluronidase can get you back to where you used to be in about 24 hours. Also, have a little piece of mind when getting injected with an HA filler that the process can be completely reversed with a small procedure.
Dr. Steven Weiner is a Facial Plastic Surgeon who "laid down his scalpel" in 2005 and concentrates solely on non invasive and minimally invasive cosmetic procedures at The Aesthetic Clinique. His website is http://www.theclinique.net . Call for a consultation: 850.622.1214
Blog: http://stevenfweinermd.wordpress.com/