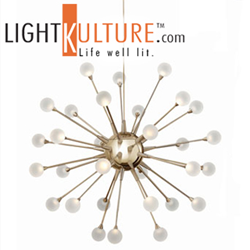 With the Fredrick Ramond brand, Hinkley has added an element of fashionable luxury, that is as elegant as it is exciting.
Los Angeles, CA (PRWEB) March 19, 2014
LightKulture.com is pleased to offer Fredrick Ramond Luxury Lighting Brand from Hinkley. Hinkley, a fourth generation family lighting manufacturing company with midwestern roots, has been creating quality lighting since 1922. "With the Fredrick Ramond brand, Hinkley has added an element of fashionable luxury, that is as elegant as it is exciting," noted Susan Inderbinen, President of LightKulture.com. Fredrick Glassman was the founder, President and designer of Fredrick Ramond since the company's inception in the late 1950's. He coined the phrase "California Contemporary" in the 1960's. From then on, his lighting fixtures became synonymous with the chic, fashionable west coast lifestyle that started a trend all across the US. After Hinkley acquired the company from Mr. Glassman's estate, they dedicated themselves to the preservation of Fred's vision of modern elegance and attention to detail. Under Hinkley's leadership, the Fredrick Ramond brand has flourished by adding exciting new LED technology, stylish designs and trend-right finishes that expand the scope of the Fredrick Ramond brand for homeowners and design professionals alike.
One of the most exciting introductions from Fredrick Ramond is the new Impulse LED chandelier. The 24" lightweight steel structure is suspended by aircraft cable. This updated Mid Century Modern design includes state of the art LED lighting technology, featuring 30 (.5 watt) LEDs in an exploding fireworks design. Impulse comes in 3 finishes, Cloud (mat silver), Polished Chrome, and making a strong comeback, Polished Gold. This is a trend in hospitality, visual merchandising in retail stores, and now in -fashion for the home. While silver and chrome have been riding a wave of popularity for the last 5 years, shades of gold are emerging as the next finish must-have that designers are building their warmer pallets around. In contrast to the whimsical style of Impulse, Fredrick Ramond has introduced the Method halogen chandelier. Simply elegant in its stature, Method is a 4 light chandelier available in Brushed Nickel and Vintage Bronze. This fixture makes a quality statement that can be both contemporary or transitional depending on the finish.
For more information, go to Fredrick Ramond http://www.lightkulture.com/m-74-hinkley-lighting.aspx.
Fredrick Ramond Luxury Lighting Brand from Hinkley, Now Available at LightKulture.com
"For some people, a new lighting purchase can be stressful. The Fredrick Ramond brand from Hinkley has a rich heritage in both design and manufacturing, that helps make this an easier decision to make. Featuring unique details combined with decades of design and manufacturing experience, Fredrick Ramond modern lighting combine unexpected materials and cutting edge technology. Hinkley makes it easy to select the right fixture. Incorporating thoughtful details, fashionable color options and designs, lets you continue your theme from one room to the next. There is a sense of comfort knowing you have made the right lighting decision for your home, office or workspace. Many of our design clients recommend the Fredrick Ramond brand to their customer. Fredrick Ramond offers an extensive assortment of sizes and finishes, which means you are unlikely to find the same exact fixture in your neighbors home. Relax and enjoy the experience. Congratulations on your new lighting purchase," noted Susan.
About LightKulture.com
At LightKulture.com our mission is to offer the finest energy efficient contemporary lighting and light fixtures from around the world. We have assembled an exciting collection of the industries most innovative decorative and architectural lighting. We are proud to offer lighting solutions for both your home and work-life environments. Simplicity in design is complicated, function makes it last. Be inspired by our range of essential designs from well respected American and European manufacturers. In today's world, energy efficient lighting is as important as eco-friendly or green lighting fixtures, such as LED or CFL lighting. We offer the very best energy efficient lighting and light fixtures, both high value LED lighting fixtures and CFL lighting fixtures in modern and contemporary styles that provide quality, innovation and authenticity.
LightKulture.com
http://lightkulture.com
Email: sales(at)lightkulture(dot)com
Tel. 941-330-0422