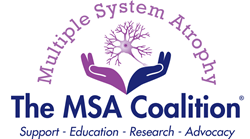 Understanding the underlying causes of sleep disorders associated with MSA can provide rationale for development of pharmacological approaches for treatment of these conditions
Richester, MN (PRWEB) March 19, 2014
The Multiple System Atrophy Coalition has awarded a $50,000 grant to Dr. Eduardo Benarroch of the Mayo Clinic Rochester for a new research project, entitled "Mechanisms of Excessive Daytime Sleepiness and Sleep Related Respiratory Dysfunction in MSA".
Excessive daytime sleepiness and sleep related respiratory disorders such as sleep apnea and laryngeal stridor are prominent symptoms in patients with the neurodegenerative disease Multiple System Atrophy (MSA). This new study aims to uncover the underlying mechanisms of these sleep disorders through pathological studies.
"Understanding the underlying causes of sleep disorders associated with MSA can provide rationale for development of pharmacological approaches for treatment of these conditions", explains Dr. Benarroch. "This can potentially lead both to improvement of quality of life and prevention of premature death in MSA patients."
Multiple system atrophy is a rare and fatal neurodegenerative disorder affecting approximately 50,000 Americans. At present there are no known disease modifying treatments or cures available.
"I know first hand the devastation of sleep disorders in Multiple System Atrophy", stated Vera James, a Board member for The MSA Coalition. "My husband was stricken with MSA in 1998 and died very suddenly in 2003 due to respiratory problems during sleep. Finding the underlying cause of this problem will hopefully lead to better treatments for current patients. I'm so pleased Dr. Benarroch is working on understanding this important issue and that the MSA Coalition is able to play a role by providing funding."
About The MSA Coalition® Research Grant Program
The Multiple System Atrophy Coalition established a dedicated MSA research fund in 2011. Then, the organization established an MSA Research Grant Program along with a scientific advisory board (SAB) in 2013. The goal of the MSA Research Grant Program is to identify and fund MSA research projects that have the potential to discover a cause, disease modifying treatments, and hopefully a cure. The world-class SAB ensures that The MSA Coalition is funding the most promising research. At present, 75% of each donation received by The MSA Coalition goes directly into the research fund. The other 25% used to fund advocacy, awareness, educational initiatives and minimal operating expenses.
For more information or to donate to The Multiple System Atrophy Coalition, please visit: http://www.Multiple-System-Atrophy.org.
About Multiple System Atrophy
Multiple system atrophy (previously known as Shy-Drager Syndrome) is a rare and fatal disorder with less than 15,000 Americans diagnosed and 35,000 undiagnosed at any given time. According to the National Institutes of Health, "Multiple system atrophy is a progressive neurodegenerative disorder characterized by symptoms of autonomic nervous system failure such as fainting spells and bladder control problems (neurogenic orthostatic hypotension), combined with motor control symptoms such as tremor, rigidity, and loss of muscle coordination. MSA affects both men and women primarily in their 50s. MSA tends to advance rapidly over the course of nine to 10 years, with progressive loss of motor skills, eventual confinement to bed, and death. There is no remission from the disease. Currently no cure is available."