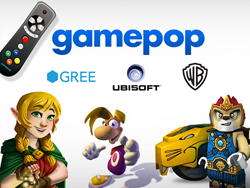 GamePop is SDK-free
San Francisco, CA (PRWEB) March 18, 2014
At the Game Developers Conference in San Francisco today, mobile company BlueStacks announced that two additional top-tier game developers have signed onto its GamePop service. Warner Bros. Interactive Entertainment and Ubisoft, the third largest game publisher globally, have all signed to bring their games to the living room via GamePop. BlueStacks has previously announced partnerships with Glu Mobile, Halfbrick and over 100 other developers for the platform.
"GamePop is SDK-free," said BlueStacks CEO, Rosen Sharma. "Unlike some of the bigger guys joining the space who require a lot of engineering work of developers, we leverage our Distributed Sensor Technology to do the work for them. GamePop is the only TV gaming solution that does not require developers to give up any source code or make any changes to their apps." The Gamepop service is compatible with any Android or Linux-based Smart TV or cable box, such as the popular Qualcomm MPQ Platform.
"Working with BlueStacks will help us deliver a totally new experience with our mobile content," said Chris Early, Vice President of Digital Distrbution at Ubisoft. "We can now give consumers more choices on how they want to play their favorite mobile games whether it be mobile, tablet or now the TV." BlueStacks has announced more top-tier game developer partners for the platform than any other company in the space to date. "GamePop delivers high-quality mobile gaming on a larger scale, and we are happy to work with them to bring our mobile games to the living room for an even more immersive experience," said Greg Ballard, Senior Vice President, Social, Mobile, and Emerging Platforms, Warner Bros. Interactive Entertainment.
BlueStacks first tested its GamePop concept at a Dallas-area mall kiosk in Summer 2013. The response, especially among kids and parents was positive, leading to the development of a console aimed at the mobile generation.
About Bluestacks
BlueStacks was founded in 2009 to bring the energy and creativity of the mobile app world to every type of device. The BlueStacks Network now reaches over 100 million users through direct downloads and mobile and PC integrations with Lenovo, Asus, Intel, AMD, MSI and the Fonelink service. BlueStacks is funded with 13M from Intel, Andreessen-Horowitz, Radar Partners, Redpoint, Ignition Partners and Qualcomm. Join their more than 1.2 million Facebook fans at Facebook.com/BlueStacksinc, or on Twitter at @BlueStacksinc
About Warner Bros. Interactive Entertainment
Warner Bros. Interactive Entertainment, a division of Warner Bros. Home Entertainment, Inc., is a premier worldwide publisher, developer, licensor and distributor of entertainment content for the interactive space across all platforms, including console, handheld, mobile and PC-based gaming for both internal and third party game titles.
About Ubisoft
Ubisoft is a leading creator, publisher and distributor of interactive entertainment and services, with a rich portfolio of world-renowned brands, including Assassin's Creed, Just Dance, Tom Clancy's video game series, Rayman and Far Cry. The teams throughout Ubisoft's worldwide network of studios and business offices are committed to delivering original and memorable gaming experiences across all popular platforms, including consoles, mobile phones, tablets and PCs. For the 2012-13 fiscal year Ubisoft generated sales of €1,256 million.To learn more, please visit http://www.ubisoftgroup.com.
Contact:
John Gargiulo
BlueStacks
SVP, Marketing and Business Development
Email: John (at) Bluestacks (dot) com