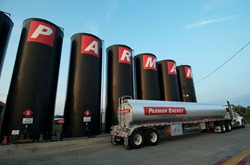 "We are excited to be investing in a physical presence in this vibrant market." - Steve Moore, President
Nashville, TN (PRWEB) March 25, 2014
Parman Energy announces that Tom Abel has joined their sales team to further develop growth in Memphis, TN. Tom comes to Parman Energy with 25 years of experience in the petroleum industry. Tom's years of service as a sales professional and sales manager will complement the skill set of the existing lubricant sales team, which includes 14 certified oil monitoring analysts and 12 certified lubrication specialists. Additionally, there are 14 ICML certified MLT-1 representatives on Parman Energy's team. According to the Society of Tribologists and Lubrication Engineers (STLE) website, Parman Energy holds the distinction of employing more STLE certified specialists than any other petroleum marketer in Parman Energy's marketing area.
Memphis, TN is also gaining industry veteran, Hershel Basham who is relocating from Parman's corporate office in Nashville, TN to bring his 30 years of experience to focus on the Memphis fuel market. As the western regional fuel manager, Hershel will continue managing the fuel team in Nashville, TN along with being the onsite fuel manager at the new location in Memphis. He is accompanied by new fuel representative Wes Robertson. Wes's background includes experience as a fuel specialist while serving in the U.S. military. "Parman Energy has been servicing the Memphis, TN market for years, but the addition of a physical location and local sales representatives will increase our level of service to our existing and future customers," stated Parman Energy's western regional fuel manager, Hershel Basham on the scheduled expansion.
About Parman Energy
Parman Energy is the most capable, reliable and dynamic source for quality petroleum products and DEF in the southeastern region of the United States. We differentiate ourselves from our competitors by our commitment to excellence on an everyday basis. This commitment is demonstrated by the company's continual investment in new technologies and ongoing infrastructure improvements, by our recognition in the industry as the market leader and by daily actions of our employees. It is our goal to offer increased value to our customers through quality services, products and partnerships.