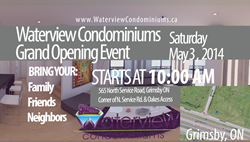 We want to provide potential buyers a real sense for the suite interiors, building amenities, and outside view through cutting-edge technology at our Sales Center.
Grimsby, Ontario (PRWEB) March 19, 2014
LJM Developments (LJM), officially announced the much anticipated Grand Opening for its Waterview Condominium project in Grimsby. The event will take place on May 3rd at 10:00 AM EST at 565 North Service Road, in Grimsby, Ontario.
After premiering their portfolio and unveiling Waterview Condominiums at the World Real Estate Expo, MIPIM in Cannes, France to wide acclaim, the LJM team is bringing that excitement to their Grand Opening Event.
The event will feature 3D virtual tours of the interior and suites with never before seen layouts and footage. LJM will also officially release floorplans, features list, and prices for its one-Bedroom, two-Bedroom, and two-storey penthouse units to the public on the grand opening day.
"We want to provide potential buyers a real sense for the suite interiors, building amenities, and outside view through cutting-edge technology at our Sales Center, which will provide an interactive mechanism for attendees to tour the building and suites. The LJM team has worked tirelessly to make this a reality" says Shaheryar Mian who is leading the marketing efforts for the upcoming development.
In 2013, LJM launched Appleby Gardens and successfully completed Ironstone Condominiums in collaboration with Davies Smith Developments. The Waterview Condominium development marks the company's growth westward where much development is taking place. Among the modern features and amenities offered are an elaborate roof-terrace area with private cabanas, green space, hot tub, and barbeque grill. The Waterview building also features a state-of-the-art fitness center, and a carefully chosen blend of retail outlets.
"Waterview Condominiums offers the sought-after equilibrium of urban amenities, and small-town charm by bringing residents closer to nature with contemporary architecture and daily conveniences" Mian further articulates.
Waterview Condominiums is situated in close proximity to the QEW highway that links major urban centers in the golden horseshoe that surrounds Lake Ontario. With the Grimsby GO station in the works for 2015, the city will make commuting much easier and convenient for its residents by efficiently linking the rail network through downtown Toronto.
"Every suite in Waterview faces Lake Ontario. Unit layouts are impeccably designed to maximize living space while offering magnificent views and natural light. Close by attractions also include Niagara-on-the-lake, Niagara Falls, Wine country, and proximity to the US border. Residents can also spend weekends sailing out of the nearby Newport Yacht Club, sunning on the Grimsby beach or enjoying nature hikes and walks in nearby wildlife conservation areas" says a spokesman at LJM Developments.
The Grand Opening event will feature red carpet VIP entrance, champagne reception, and delectable tastings by LJM's very own Fraticelli's Italian Eatery. Attendees will have access to special discounts on pre-construction upgrades, and buyers will also receive $500 in gift certificates to Best Buy or Holt Renfrew on the day.
Waterview Condominiums embraces the lake-front lifestyle with access to yacht clubs, golf courses, beaches, and nature trails that are hard to access in surrounding urban centers. To RSVP for the Grand Opening event, please visit http://www.waterviewcondos.ca
About LJM Developments
LJM Developments is a recognized industry leader in real estate development in Ontario, Canada. The company has developed highly-acclaimed signature projects in the residential and commercial sectors that are a perfect synergy of world class architectural design and cutting-edge construction quality.
For more information about Waterview Condominiums, please visit http://www.waterviewcondos.ca
####
If you would like more information about this topic or need to make further press inquiries, please contact LJM Developments at 289-245-1900 or e-mail: info(at)ljmdevelopments(dot)ca