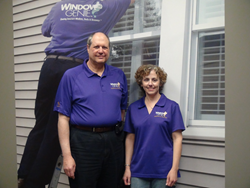 At this point in my life I'm more concerned with the lifestyle aspect when it comes to making a living.
Charlotte, NC (PRWEB) March 20, 2014
Window Genie, a nationally ranked franchise of home services offering window cleaning, window tinting, pressure washing, gutter cleaning and much more, announces the grand opening of their newest location on Monday March 24th. Harry and Laurie Sparks are the owners. This is the third Window Genie location to open in the Charlotte area and will serve the South Charlotte, Matthews, and Mint Hill communities.
Before joining the Window Genie team, Harry Sparks spent some time doing contracting work in the IT compliance field. He also did some systems analysis helping people integrate computer systems after mergers. "I enjoyed it most of the time, but contracting being a series of short term projects meant I was always looking for work. Every three to six months I was looking for my next job. That gets tiring," Sparks said.
Sparks had thought about business ownership off and on for years. "I was at a networking meeting where the topic was about improving resumes, something I had been doing a lot of since I was always looking for jobs a few times a year. That particular meeting is when I met my franchise coach from The Entrepreneur's Source, Lauren Cantor. We started talking and I decided it was time to seriously investigate the option of business ownership with her guidance."
The two discussed Sparks' strengths, weaknesses, interests and goals. Sparks said, "Lauren presented me with about 10 franchises that she thought best fit me and what I was looking for. One reason Window Genie came up was that it would allow me to work around my life, not schedule my life around my work. At this point in my life I'm more concerned with the lifestyle aspect when it comes to making a living; I wanted flexibility in my schedule. I'm on a few local non-profit boards and I wanted the freedom to attend meetings during the day, or even do something as simple as scheduling a doctor's appointment. With Window Genie I can do these things without worrying that I'm affecting the business because it's not like owning a retail or food shop; the hours aren't so strict."
Sparks was also drawn to Window Genie's marketing model. "Window Genie's business does not require cold calling whatsoever," he said. "I really like that I can offer multiple services, year round. In the Charlotte climate I can get a solid 10 months of window cleaning. I'm looking forward to being able to help people save energy and keep their houses more comfortable with window tinting. I think building a repeat customer base will be exciting and fairly easy if we deliver on quality and customer service. There really is a service for every home and every budget."
Window Genie of South Charlotte officially opens for business on Monday March 24th, but the Sparks' have already lined up some estimates just by word of mouth. "I've been so pleased just in the reactions I get from friends, family and neighbors," Harry said. "I already have several people asking me to come out and do an estimate on their homes for spring cleaning. I'm definitely excited but somewhat scared to be honest. I expect to be very busy with spring right around the corner, but I'm excited about the potential here. We plan to grow the business, and we're very happy with our decision to become business owners."
For more information about Window Genie of South Charlotte, contact Harry and Laurie Sparks at hsparks(at)windowgenie(dot)com or (980) 245-2297.
###