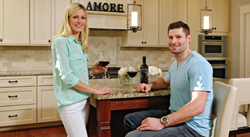 "It definitely feels like we live in the suburbs, but I like that," says Carmen. "I grew up on a farm so I like the quiet and I like knowing my neighbors."
Rockville, Maryland (PRWEB) March 25, 2014
HOME & DESIGN's March/April 2014 issue is on newsstands now - get it while it's hot! With spring right around the corner, this issue showcases award-winning landscape and remodeling projects by our region's top architects, interior designers and landscape professionals. These stunning designs are sure to give you fresh and inspiring ideas for your own home.
From the Troy Brouwer Private Tour article:
After grueling practices and games, the couple's home provides a refuge for Troy. "Coming home from the road, it's a relaxing sanctuary," he admits. "My favorite time of the day is when I put Kylie to bed. It's probably the only time when she stays in one spot for more than 20 seconds. I don't worry about hockey. I just love being with my family."
This issue also features a Private Tour of the Arlington residence Capitals player Tory Brouwer shares with his wife and baby girl; a beautiful new custom home on the South River in Annapolis; and the latest furniture collections hitting showrooms this spring. Remote Control features the work of Andreas Charalambous as he imbues a 1970s DC townhouse with spare, clean-lined style.
As always, this issue's Indulgences section tempts you with the best of the good life in travel, toys, spring fashion and food. It's an issue you won't want to miss!