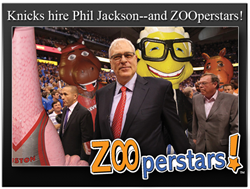 New York, NY (PRWEB) March 19, 2014
The New York Knicks are on the ball!
First, they hire the legendary Phil Jackson to lead their basketball operations. Then, to top that, they hire the legendary ZOOperstars! to perform for their fans during halftime at their big 4/13 game vs. the Chicago Bulls.
Everyone is happy, as these two great moves prove that the Knicks are serious about giving the fans what they want.
This will be the 5th appearance for the ZOOperstars! in Madison Square Garden.
Star forward CAMELo Anthony said, "I am super excited about having Phil Jackson in the fold, but I am ZOOper-excited that we will be able to see Mackerel Jordan, Whale Gretzky, Tiger Woodschuck, Derek Cheetah, and the other hilarious ZOOperstars! here when we battle Chicago. Those guys crack me up so much that I even went out and got a ZOOperstars! tattoo after last year's show!"
Besides New York, the ZOOperstars! will also be heading to another huge event for the Philadelphia Phillies on 5/18. They will be the special guests at the Phillie Phanatic's Birthday Party, for the 5th time.
Those big-time shows highlight the spring calendar, but fans across the country will also be enjoying some fantastically funny entertainment at their ballparks to kick off the baseball season.
The rest of the summer is chock full of other exciting ZOOperstars! stops, at locales such as Green Bay, Corpus Christi, Albuquerque, Billings, Jacksonville, and Corvallis.
The ZOOperstars! are one of the most popular acts in sports, and are a member of The Skillville Group, which is based in Louisville, KY, and also represents and produces other top entertainment acts BirdZerk!, BBoy McCoy, and Russian Bar Trio. Besides the 200+ sports events each year, the ZOOperstars! also perform at many festivals, fairs, corporate, and charity events across the country. The group has performed in 47 of the 50 States, plus in Mexico, Canada, Japan, Indonesia, and Turkey. In 2008, ZOOperstars! placed in the Top 20 of NBC's hit summer show, America's Got Talent.