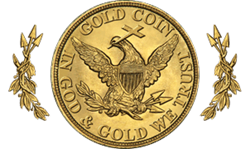 Every day we hear complaints from investors who paid some gold dealer in California 30% above spot for gold Eagle bullion coins, because those coins are worth maybe $50 over the gold spot price in MS70 condition.
Fort Worth, TX (PRWEB) March 18, 2014
Following publication of a recent Modbee article that explained the careful process through which collectible coins are minted, handled and distributed, Texas-based gold coin dealer GoldCoin.net said today through spokesman Keith Kelly that understanding what a numismatic gold coin goes through could prevent naïve gold buyers from wasting money on bullion items that are often marketed as numismatics.
"Savvy marketers have been pushing these MS69 and MS70 gold Eagle coins for a long time now, and every day we field complaints from dissatisfied investors who bought gold Eagles from some overpriced marketing firm in southern California," Kelly said. "They don't understand how the coins they paid 30 percent above spot for are only worth $50 more per ounce than the gold spot price."
Kelly believes that careful research and due diligence could prevent many of these misinformed buyers from becoming targets of gold dealer scams. "The original American Eagle, the St. Gaudens gold coin, is a true collector piece that investors like to target for its low premiums and historically profitable returns, but American Eagle coins minted after 1986 are, for all intents and purposes, bullion, and should be purchased at three to six percent above the gold spot price, depending on volume. PCGS certification is completely unnecessary," he added.
Mint employees never touch collector coins by hand, according the Modbee article about the U.S. Mint's new Baseball Hall of Fame coins. "Checks and balances such as these ensure that true numismatics remain numismatics" Kelly said. "Eight out of ten American Eagle gold bullion coins should grade as MS69 or MS70 right off the mint but there is nothing rare or scarce about those coins because the market is already saturated with bullion."
Gold Coin (GoldCoin.net) has over two decades of experience advising household investors on smart physical gold and silver investments and gold coin IRA and 401k plans. They buy and sell all types of precious metals and offer free home delivery. For more information or a free Gold Coin Starter Kit, visit http://www.goldcoin.net or call 1-800-425-5672 today.