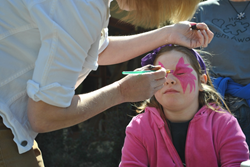 Raleigh, NC (PRWEB) March 19, 2014
The Autism Society of North Carolina (ASNC) is throwing open the gates of Camp Royall in Moncure, NC, from 10 a.m. to 4 p.m. April 2 in honor of World Autism Awareness Day, an international holiday declared by the United Nations in 2008.
ASNC, the state's leading resource organization for the 60,000 families affected by autism, invites the public to enjoy a day of fun activities and a free cookout. Attendees will also have the opportunity to talk with staff members to learn more about autism, ASNC, and Camp Royall, the nation's oldest and largest camp for individuals on the autism spectrum.
ASNC recognizes that acceptance of each person as an individual and of his or her ability to contribute to society is important, so the organization added "Acceptance" to the day's title.
Free activities will include inflatables, face painting, hayrides, and most Camp Royall offerings.
ASNC has also set a fundraising goal for the event: $10,000 for the Send Kids to Camp campaign, which will provide financial aid to enable more children to experience the magic of summer camp.
For more information about the event, go to http://www.autismsociety-nc.org; attendees are asked to RSVP online. Camp Royall is located at 250 Bill Ash Road in Moncure, near Pittsboro.
Background:

Autism Spectrum Disorder (ASD) is a lifelong developmental disability that typically appears during the first three years of life. Recent studies estimate that up to 1 of every 70 children born in North Carolina will be affected by ASD.
For more than 40 years, the Autism Society of North Carolina has worked to address areas of need and expand services for the autism community in North Carolina. ASNC works to directly improve the lives of individuals affected by autism, by providing advocacy, education, and services.
Additional information is available by calling 1-800-442-2762 or by visiting http://www.autismsociety-nc.org.