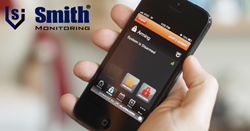 We utilized our existing wiring and added a wireless option that gives us the best of both worlds. - Kirk Gravely, Austin, TX
Austin, TX (PRWEB) March 20, 2014
Home security is often overlooked and considered an antiquated technology. Smith Monitoring®, a Texas-based home security company, is on the forefront of thinking outside of the box when it comes to home protection and home life management.
Smith Monitoring® has seen rapid interest from Austin homeowners after introducing a smart new technology: Geo-fencing.
Geo-fencing, a software feature that uses GPS (Global Positioning System) and RFID (Radio Frequency Identification) to define geographical boundaries. Based on one's location, homes activated with geo fencing services adjust automatically for great convenience, control and flexibility.
A standard feature with the SMART+ HOME® Austin security systems, geo-fencing is easy to set up and is controlled by automatic triggers that activate when a person's device (most likely your smartphone) either exits or enters the defined boundaries set around the home. When passing through that invisible boundary your smartphone will send the signal to the SMART+ HOME® and activate your personal settings.
A recent survey showed that hundreds of Austin residents agree that the best feature of geo-fencing is 'Arming Reminders'. This can be set to adjust the thermostat automatically, lock and arm all windows and doors and even turn the lights on or off when a homeowner is either entering or exiting an area that is geo-fenced, respectively. The system can be used to define boundaries that are customized to a family's specific needs or used to virtually fence a child's school, a vacation home or even workplace.
The SMART+ HOME® will even send notifications if there is a change while you're away from home by sending alerts in the form of emails or text messages. Forget to close the garage door? The SMART+ HOME® will send an alert and ask if you want to close it remotely.
Unlike other apps that uses web based and user-created maps or latitude and longitude, geo-fencing incorporates Google Earth and satellites to locate and define particular geographical areas. Geo services can be used with practically all modern smart devices, including Apple iPhones, iPads, Android, Blackberry and Window devices.
Adjustment of the thermostats to save energy when one has left home and back to a working-mode when home, using the geo system helps in efficient saving of energy. Privacy control is also possible by automating video recordings to only take place when one is away from home and it is empty.
The SMART+ HOME® allows for complete customization with a wide range of options to suit the specific needs of every type of homeowner and is available for pain free installation in Austin, Texas.
"The process was smooth and we were given additional options from a well-informed installer that will enhance our security system. We utilized our existing wiring and added a wireless option that gives us the best of both worlds. The timing for getting out to our house and getting this installed was fantastic." - Kirk Gravely from Austin, TX.