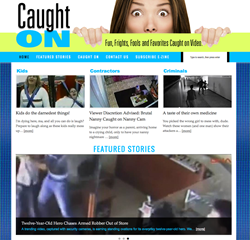 Technology keeps us connected to who and what we love. You no longer have to physically be there to connect with people. - Maureen Campbell, iWatchLife
Toronto, ON (PRWEB) March 18, 2014
Innovative applications of modern video technologies are the focus of a Caught On video series, covering everything from smart home surveillance to latest empowering technologies.
In the feature "Is Technology Humanizing?", Caught On highlights an inspiring Microsoft video that asks "how far can we go?" with technologies. The touching video went viral with millions of views, conveying the message that technology is empowering, rather than dehumanizing. The latest in artificial limbs, remote video surgery and connected classrooms demonstrate the emotive power of advances that focus on the human equation.
"Technology keeps us connected to who and what we love," said Maureen Campbell, Director of Marketing and Communications at iWatchLife, a technology company who specialize in smart home monitoring. "You no longer have to physically be there to connect with people."
In "Viewer Discretion Advised", Caught On graphically presents the important role of video surveillance in protection, with horrific footage of a babysitter literally hurling a baby to the floor, over and over. "This video will make any parent squirm. You will never look at babysitters the same way," Caught On concludes. "You might be so frightened you'll consider installing a home security video system."
A more inspiring view of security monitoring reveals a twelve-year-old evicting a gun-toting robber from a jewelry store. This trending video earned virtual online standing ovations for the young hero and derision for the ineffective criminal. It is only due to the pervasive presence of cameras that inspiring moments such as these are captured.
In another story, Arnold Schwarzenegger, Minka Kelly and a Llama appear in video cameos in a video spot "Ian Up-For-Whatever" for Bud Light. Despite the wacky characters, twins, Arnie, llamas and Minka, the real stars here are the hidden cameras. Without the natural reactions of Ian Up-For-Whatever, on hidden cameras scattered throughout improbable situations, this spot would not have carried the same viral power.
About Caught On
Caught on video! Caught On zine showcases those special, fun, scary, candid moments captured by home and business security cameras, street cameras, surveillance videos or cell-phones.
Pervasive cameras have changed our world. We are more secure today, because of them. We also capture more of life's treasured moments thanks to cameras everywhere. Our phones have cameras. Street corners, stores, businesses and subways all have them. Increasingly, more and more homes have them —and not just at the door for security, but throughout the house.
Caught On is a publication of Blogertize.