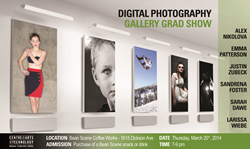 Kelowna, British Columbia, Canada (PRWEB) March 18, 2014
The styles of photography differ so here is a little bit about each photographer:
From 100 Mile House Sandrena Foster of Sandrena's Photography produces art that takes your eye on a journey though the photograph as she focuses on capturing the movement of a subject.
Next is the Okanagan's Justin Zubeck of Zubeck Photography who has a wicked eye for detail and collaborating with other creative minds while shooting fashion and portraits.
Larissa Wiebe of Curious Fish Photography is established in Vanderhoof producing family farm photos as well as fun teen fashion shots.
Loving the snow from Salmon Arm is Emma Patterson of Triple F Photography who photographs exciting summer and winter sports.
The culturally diverse Alex Nikolova of All Star Photography from Calgary brings art to fashion with her sharp and colourful photographs that wow.
Finally from Vancouver Island Sarah Dawe of Katherine Photography strives to bring nature and the silly moments of families together in her environmental family portraits.
All these great photographers have something different to bring to the world creatively, so please come out to support them at their first Gallery Show being held at the Bean Scene Coffee house 1615 Dickson Ave, Kelowna between 7-9pm on March 20th 2014. We look forward to seeing you there and hope everyone can make it.
Sandrena Foster – Sandrena's Photography http://www.SandrenasPhoto.ca
Justin Zubeck – Zubeck Photography http://www.ZubeckPhotography.com
Larissa Wiebe – Curious Fish Photography http://www.CuriousFishPhotography.com
Alex Nikolova – AllStar Photography http://www.AllStarPhotography.com
Emma Patterson – Triple F Photography http://www.TripleFPhotography.ca
Sarah Katherine Dawe – Katherine Photography http://www.KatherinePhoto.com
In conjunction with their graduation from Centre for Arts and Technology, these students will also be participating in a light-hearted photography competition. This challenge has been dubbed the "Photathalon" and offers students the opportunity to flex their creative muscles and compete with their peers in several fun and unique photography challenges. Centre for Arts and Technology has secured prizes for the winner from top print houses MPIX and WHCC along with some other great prizes for the winner!
For more information please contact Kevin Trowbridge (Digital Photography Department Head)
100 - 1632 Dickson Avenue, Kelowna, BC V1Y 7T2
Telephone: (250) 860-2787 Toll Free: 1-866-860-2787
Direct line: (778) 436-2082 extension: 115 cell: 250-317-8380
Email: ktrowbridge(at)digitalartschool(dot)com