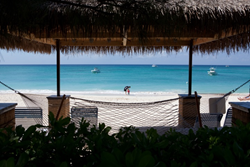 "We see a lot more activity on Trip Advisor than years' past," comments General Manager Rory Mohammed.
Grand Cayman, Cayman Islands (PRWEB) March 20, 2014
Lacovia, located along a pristine stretch of Seven Mile Beach in Grand Cayman, has been busy maintaining new changes at the property and preparing for more in the years to come. "We see a lot more activity on Trip Advisor than years' past," comments General Manager Rory Mohammed. "So we want to be prepared to please all of our visitors." This affordable condo rental property provides a quality experience at very competitive rates and, unlike many other condos on Seven Mile Beach, offers guests a variety of accommodation including 1 bedroom, 2 bedroom, and 3 bedroom options on a property that includes a fitness center, tennis, ping pong, basketball, outdoor pool, Jacuzzi, new cabanas and hammocks and nightly security.
The Resort
Addressing the needs of today's busy travelers, even those who might be on vacation while in Grand Cayman (many come to the property while conducting business on-island), the property installed fiber optic internet and IPTV. Having high speed and easy access is equally pleasing to the business traveler and to families with children, each with their own needs but both often needing online access. Noting its ideal beach location, and that nearly all their repeat guests site the location of the property the most important factor in deciding to return, the property enhanced the beach experience with new cabanas and hammocks.
The Promotion
From a promotional standpoint, Lacovia refreshed their look with a redesigned logo, introduction of a tag line, launched it's first-ever email marketing campaign, re-launched the new web site and is preparing to be active in social media in 2014. These changes will make it easier to communicate with the property, learn more about it, and find out about special offers, such as a 5th night free in summer (June 1 to September 30), encouraging their guests on Seven Mile Beach to stay a while longer.
Lacovia, a 28 unit condo rental resort property in the heart of Seven Mile Beach on Grand Cayman, is located just steps from nineteen restaurants, several stores, and the shopping village of Camana Bay. Rates start at $290 in low season, ideal for families and friends seeking an independent vacation, and also offer special free nights throughout the year. For more information, contact Melanie@maacg.com or visit http://www.lacovia.com.