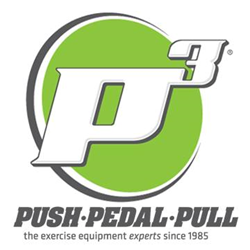 My job is to demystify our machines so customers can determine which products match their individual capabilities and preferences.
Sioux Falls, SD (PRWEB) March 19, 2014
National fitness equipment service and sales giant Push Pedal Pull has entered into a new partnership with CBS affiliate KMTV to air informative monthly televisions segments for audiences in the greater Omaha, Neb., viewing area. P3's James Keyes, manager of the company's Omaha retail store, has teamed up with KMTV co-hosts Mary Nelson and Mike DiGiacomo on daily talk show "The Morning Blend" to discuss general fitness topics and demonstrate the proper use of popular types of home exercise equipment. The first segment, which featured Mr. Keyes showing the hosts how to get an efficient full-body workout on a Precor Elliptical Trainer, aired on Feb. 27. Upcoming segments are scheduled for March 27, where he will discuss vibration training, and April 24, with a topic of ElliptiGos and other outdoor portable fitness solutions.
A 17-year-veteran of the fitness industry, Mr. Keyes is excited about this opportunity to help Omaha community members adopt healthier lifestyles by providing them with the knowledge they need to start and succeed in a personalized home exercise program.
"When it comes to health and fitness, people often have great intentions but are scared to take that all-important first step," Mr. Keyes explains. "They are justifiably worried about spending a lot of money on home exercise equipment that isn't really suited to their goals and will end up collecting dust in the basement. My job is to demystify our machines so customers can determine which products match their individual capabilities and preferences."
Mr. Keyes is not the only key member of P3's staff to take a leading role in educating local communities about fitness. He joins colleagues Doug Corson, Megan Corson, and Lynn Fragetta in utilizing morning television programs around the country as a platform to promote overall health.
"This commitment to health and fitness education is not just a company mantra," Mr. Keyes says. "It's a core belief we all hold on a personal level, which makes what we do even more rewarding."
For further details about Mr. Keyes' appearances on "The Morning Blend" or to contact the P3 Omaha outlet, please visit PushPedalPull.com and choose the Omaha store from the drop-down menu on the front page.
About: Formed in 1985, Push Pedal Pull has developed a nationwide reputation as local exercise equipment experts. They are an industry pioneer and a recognized leader in the sales and service of premium fitness equipment for both residential and commercial settings. Today, the company is one of the largest fitness equipment dealers in the country, with nearly 3 decades of growth and stability in the specialty fitness industry.