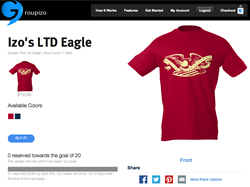 Chicago, IL (PRWEB) March 19, 2014
Izo is pleased to announce the launch of its Limited Edition Designs program, hosted on its design and sell platform, Groupizo. Each month, the Izo Team produces a unique graphic for sale on t-shirts and hoodies. These screen printed garments will be sold over a period of three weeks each, with orders shipped to each individual purchaser at the close of the LTD event.
Groupizo makes everyone a designer. By giving the consumer access not only to online design capabilities, but also an instant sales platform, Groupizo democratizes the retail process. Just as Instagram provided the tools for creating photos with a professional aesthetic into the hand of anyone with a smartphone, Groupizo gives anyone with a computer, tablet, or mobile device the resources to sell their custom creations. Additionally, since Izo offers the lowest prices around on custom apparel, Groupizo users make more profit off of their designs than on other sites.
Izo's Limited Edition Designs highlight the possibilities for other artists and designers. Because the Design Studio is optimized to work with uploaded artwork, users can apply any bitmap or vector image file to customize apparel items (although vector artwork is always preferred). For artists who are partial to working with physical media rather than digital programs such as the Adobe suite, this means they can upload scans of their drawings and still create incredible custom garments.
Groupizo users monetize their designs by deciding on a selling price above the cost it takes to produce the custom apparel. The cost is based on an estimated sales goal, and orders are collected over a period of time (up to three weeks), also determined by the artist. Custom designs are produced at the close of the Groupizo event upon achieving the sales goal. Artists easily promote their designs by using Groupizo's share capabilities from their event page, posting the unique URL to social media such as Facebook, Twitter, Google + , and Pinterest. They can also send an email blast to friends, family, and supporters.
To launch the LTD Design program, Izo held a design contest on Pinterest, hosted by The Review Wire. The winning design, determined by volume of votes and shares can be seen on a Gildan Ultra Cotton t-shirt, with orders accepted until April 7th. Additionally, Izo's first in-house LTD design, featuring an all-American eagle, is also displayed on a Gildan Ultra Cotton t-shirt, with orders accepted until April 8th.
About Customizo and Izo Brands: With Customizo, Groupizo and Snapizo, Izo Brands delivers a diverse set of customized online fulfillment solutions, a personalized design and sell ecommerce platform with fundraising (crowdfunding) applications, and mobile media distribution applications. Izo's mission is to be the most customer-centric, creative, and innovative company in the custom apparel and promotional products industries.