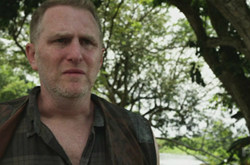 It's been one of the more fun jobs that I've had in a long time as an actor.
(PRWEB) March 18, 2014
TVRage.com's Senior Writer Anthony Marcusa recently spoke with Michael Rapaport, alongside other reporters during a conference call, about his current role on 'Justified,' what it's like playing a villain and what it took to get into his backwoods character.
Here's an excerpt from the conference call:
"As a longtime fan of the show, and possessive of a childlike sense of excitement and imagination, Michael Rapaport has enthusiastically embraced his stint on the southern drama 'Justified.'
"At the end of the day, I think it's a world that's a modern day Western. From a time when you were a little kid, it's like cowboys, and good guys versus bad guys, and I think that it's really relatable," said Rapaport directly to TVRage during a conference call last week. The 44-year-old actor has taken up the role as the Season 5 antagonist on the Kentucky-set series, playing opposite good guy Timothy Olyphant, and well, beloved bad guy though sometimes good guy Walton Goggins.
"I think the backdrop of Harlan, obviously it's a heightened world that the 'Justified' people live in, but it's just sort of a heightened fantasy world of good versus evil and cops and robbers," added Rapaport. "I think it's like good versus evil, but then the lines are skewed."
Across this season, which is nearing its thrilling conclusion (giving way to a Season 6, the last for the successful FX drama), Rapaport has portrayed Daryl Crowe Jr., a Florida-based alligator farm operator and drug trafficker. He is joining an impressive list of other actors who have taken on the role of 'Justified' villain, including Margo Martindale, Mykelti Williamson, and Neal McDonough and has loved going toe-to-toe with our hero and anti-hero."
'Justified' airs Tuesdays at 10/9c on FX.