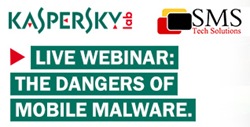 Charlotte, NC (PRWEB) March 20, 2014
Regardless of official BYOD (Bring Your Own Device) policy, employees are doing business on smartphones and tablets. Employees continue to stay connected by accessing company email, participating in online conference calls, or just plugging phones into work computer throughout the day.
What safety is in place on all those individual devices?
In this live webinar, IT security expert Gary Mullen will discuss:
-The vulnerability of all devices on any mobile platform
-Growth and types of mobile malware
-Protection for organizations from these mobile-born threats
Join this event on Tuesday March 25th, 1:00 pm (EST)
Contact Susan Hogan at info(at)smstechsolutions(dot)com and a link to register will be sent to you.
SMS Tech Solutions, headquartered in NC, provides technology solutions for K-12, Higher Ed, Non-Profits, SMB, Commercial, State and Local Government.