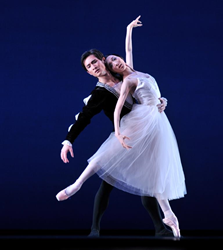 Jackson, MS (PRWEB) March 19, 2014
USA International Ballet Competition (USA IBC) officials announced today that 109 competitors from 21 countries have been invited to compete in the 2014 USA IBC, the official ballet competition of the United States by a Joint Resolution of Congress. Held every four years in Jackson, Miss., the upcoming USA IBC is slated for June 14 –29, 2014.
"Dancers invited to compete in the USA IBC know they have a chance to test their skills against the highest international standards," said Sue Lobrano, USA IBC executive director. "The level of artistry and technique that this group of competitors will bring to the USA IBC stage will certainly be thrilling to watch."
For the 2014 event, 48 of the selected competitors are juniors, ages 15 to 18, and 61 are seniors, ages 19 to 26. The United States has the highest number of competitors invited (32), followed by Japan (18) and Brazil (14).
"The USA IBC is synonymous with the discovery of new talents and the launching of careers," Lobrano said. "We look forward to hosting these competitors as they experience the United States' premiere ballet competition where they will vie for gold, silver and bronze medals, company contracts and scholarships."
In addition to breathtaking performances by competitors, USA IBC audiences will marvel at the energizing shows presented by two world-renowned dance companies.
Complexions Contemporary Ballet, known for transcending dance stereotypes, will perform during opening ceremonies. Trey McIntyre Project will conduct a master class for advanced and professional dancers, offer a lecture/demonstration open to the public and present an evening performance June 19.
Celebrating its 35th anniversary, the USA IBC will offer a festival of ancillary events, including a matinee performance by Regional Dance America companies; a five-day Classical Tutus, Bodices, and Tiaras workshop; the Edward Stierle Contemporary Showcase; "Lunch with USA IBC" series, featuring programs on Balanchine, Women in Dance and Dance for Parkinson's; and Project Motivate, a seminar for dance teachers and studio owners, led by Rhee Gold. The USA IBC Dance School and Teacher Training Program, the National Museum of Dance En Pointe! exhibit and an exhibit of work by Andrew Bucci, the official 2014 USA IBC artist, round out the schedule of concurrent events.
The USA IBC is a two-week, "olympic-style" competition where tomorrow's stars vie for medals, cash awards, company contracts, and scholarships. The event is designated as the official international ballet competition in the United States by a Joint Resolution of the Congress. Presented under the auspices of the International Dance Committee, International Theatre Institute of UNESCO, the USA IBC is held every four years in Jackson, Miss., in the tradition of sister competitions in Varna, Bulgaria, and Moscow, Russia.
For more information and tickets, visit http://www.usaibc.com or http://www.facebook.com/usaibc.
Editor's Note:
A complete list of competitors is available electronically at http://www.usaibc.com/media.