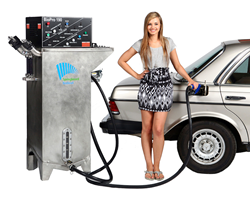 We can help anyone pick up the dollars off the ground, but you have to first see that you're standing on them.
Chico, CA. (PRWEB) March 19, 2014
Springboard Biodiesel, a leading supplier of biodiesel fuel making appliances, announced it will further incent restaurateurs and schools to make inexpensive, clean-burning fuel from used cooking oil by selling their award-winning appliances at a $1,000 discount for the remainder of the month of March.
Springboard's BioPro™ line of processors enable businesses and institutions with access to used cooking oil (ie. restaurants, schools, or any group with a "captive kitchen") to convert that oil into premium grade biodiesel fuel for 95 cents per gallon. 95 cents/gallon, according to the Springboard website, is the cost of the other inputs and electricity required to make 50 to 100 gallons of biodiesel at a time in a BioPro™ biodiesel processor.
"The BioPro™ is automated so it's as easy to operate as a washing machine," says Springboard Biodiesel's CEO Mark Roberts. "All you do is load it up and turn it on. The machine does the rest."
Biodiesel fuel is a globally traded commodity and generally sells in the US for more than the cost of diesel at the pump. One Bay area based retailer is currently selling B99 (99% biodiesel mixed with 1% diesel ) for $4.89 per gallon.
More progressive restaurant and chain owners may be intrigued to discover that biodiesel made from used cooking oil emits 90% less CO2 and approximately 50% less particulate matter, according to a recent California Air Resources Board analysis.
Roberts' adds this wry perspective. "It's tremendously positive that biodiesel is being made locally from waste and is this much better for the environment than regular diesel, however, if we had to rely on the collective urgency of the environmentally conscientious people in our country who also have access to used cooking oils, we'd have gone out of business long ago. It's the simple fact that a restaurant owner can make this high-grade, renewable fuel in our equipment for one quarter of the price of the regular diesel it replaces that keeps us busy making BioPros™."
Springboard's website currently boasts that they have machines in all 50 states and in 18 countries. Their published list of notable customers includes Toyota, Honda, the FL. National Guard, a long list of restaurants, the Federal prison system and now 71 US colleges and universities.
One BioPro™ owner featured on Springboard's website writes, "Closing in on our fourth year of biodiesel with the BioPro 190 ...we go year round with B100... Our kids actually have not been to a gas station to fill up - they think a lot of people make their own biodiesel."
The National Biodiesel Board's website states that "Biodiesel is a renewable, clean-burning diesel replacement that is reducing U.S. dependence on foreign petroleum, creating jobs and improving the environment. Made from a diverse mix of feedstocks including recycled cooking oil, soybean oil, and animal fats, it is the first and only EPA-designated Advanced Biofuel in commercial-scale production across the country and the first to reach 1 billion gallons of annual production (in the US)"
"It can be used in existing diesel engines without modification," the website states and further explains that it will blend with regular diesel at any ratio.
Springboard's Roberts concludes, "The ROI on this equipment is incredibly fast, shorter than 4 months for many and that's quicker now with the sale, but you have to have the oil and you have to have the vision. What we've done is made every part of this process, from financing to fueling up, as easy as possible. We can help anyone pick up the dollars off the ground, but you have to first see that you're standing on them."
The sale ends at midnight on March 31, 2014.
Springboard Biodiesel is a privately owned clean-tech manufacturer based in Chico, CA. They have been selling bodiesel processing equipment under the trademarks of BioPro™ and SpringPro™ for 6 years.