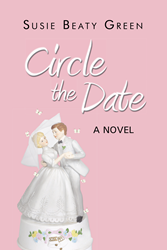 San Diego, CA (PRWEB) March 20, 2014
Beautiful weddings, all-conquering girl power and troublesome boys – these thoughts fill the minds of young girls and linger with them into womanhood. As they mature so do their thoughts. Weddings and boys turn into love and romance and girl power turns into lasting companionship.
In her latest novel, "Circle the Date," Susie Beaty Green delivers these themes in the perfect package of drama, humor and love. Green's story follows two women and their adventures as friends running a wedding planning company. As they cater to the needs of the most elite in Scottsdale, Ariz., they find that love and friendship are two things that are difficult to perfect.
When a couple of old college flames enter their situation, the women become captivated by secrets and the desire to know what could have been. The women begin to question the existence of soul mates and true love, and ultimately the power of any relationship.
"Circle the Date" has been developed into a screenplay for a motion picture and is being considered for a feature film. Despite the book's popularity and success, Green continues to donate all proceeds from the book to the American Red Cross.
Loosely based on her own experiences with her college roommate, the adventures Green describes are hysterical yet compassionate. She leads readers on a page-turning adventure through romance, friendship and the intricacies of both.
"Circle the Date"
By: Susie Beaty Green
ISBN: 978-1-4918-2517-4
Available at Amazon, Barnes and Noble and AuthorHouse online bookstores.
About the Susie Beaty Green
Growing up in Laguna Beach, Susie Beaty Green developed her passion for art, theatre and architecture at an early age. After earning her Bachelors in English and Political Science from the University of Dan Diego, she married her college sweetheart. While in college and after college Green worked as a docent in museums and galleries. She is currently a stay at home mom, involved in many associations in San Diego and enjoying her time writing in her pajamas.