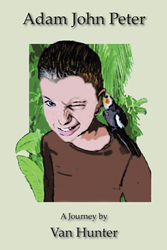 Cedar Crest, NM (PRWEB) March 20, 2014
In 2004, Van Hunter was diagnosed with acute lymphoblastic leukemia.
That single event changed Hunter's life and faith forever. Other people in Hunter's shoes might question their faith and trust in God. However, Hunter's reaction was just the opposite. He found himself brought back into faith. Hunter believes that the terrible turn of events was God's way of sending a message.
"Now I call it the gift of cancer, because it so drastically changed my life and perhaps my immortal soul," Hunter said.
Hunter's new book, "Adam John Peter," follows the story of a young, curious boy. While staying at a hotel in Hawaii with his family, Adam sees a face on a palm tree. Curiosity gets the better of him as he climbs the tree to investigate. Miraculously, Adam finds himself alone on an island where he must face his greatest fears.
With God guiding the way, Adam must follow the signs and open his heart. If Adam listens, he will find that he is really not alone after all.
Hunter stresses that if readers just listen to God and follow His signs, they will prevail, for God will not give a challenge that you cannot handle.
"Adam John Peter"
By: Van Hunter
ISBN: 978-1-4908-1574-9
Available at Amazon, Barnes and Noble Booksellers and Westbow online bookstores
About the Author
Van Hunter graduated from the Navel Fight School and the Marine Corps Weapons and Tactics School. He is a former Marine Corps Harrier pilot and is currently a Captain for Southwest Airlines. He currently enjoys spending time with his family and pursuing his hobby of writing.