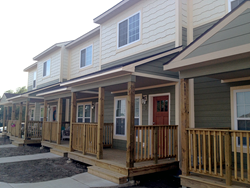 Modular is a good fit for affordable housing.
Watford City, ND (PRWEB) March 20, 2014
Champion Commercial Structures, a division of Champion Home Builders, Inc., proudly announces that its recently completed townhome development, Wolf Run Village in Watford City, North Dakota, has received the Champions of Affordable Housing Award from the North Dakota Housing Finance Agency (NDHFA). The award was presented at the 23rd annual Statewide Housing Conference on February 27, 2014 to the lending institutions and local organizations that made funding for the project possible.
Wolf Run Village sits amidst the state's Bakken Oil formation, which has caused rapid growth in the small towns of Watford City and Williston. The project was completed in August 2013.
Champion Commercial Structures, a builder of modular commercial buildings, was selected because its modular building process is known for helping keep building cost down and production speed swift. With affordable housing needed to fill a void in the expanding Watford community, modular was a perfect fit.
Katie Walters, Wolf Run's property manager, nominated the development for the award. "Most affordable housing projects set aside only a certain number of units as affordable housing, but all the housing in Wolf Run Village is affordable," Walters reported to the McKenzie County Farmer, a local newspaper. She continued to explain that local government and schools could not afford to pay employees enough to find local housing, so jobs remained vacant. The completion of Wolf Run has allowed more jobs to be filled and more families to live in comfortable homes.
"This award shows the nation what we already know very well: modular is a good fit for affordable housing," said Daniel C. McMurtie, Vice President of Champion Commercial Structures. "We're in this line of work for many reasons, not the least of which is putting a roof over the heads of every-day Americans. We're so proud to know a development we contributed to has had such a profound effect on the residents of North Dakota."
Developed by Bakken Housing Partners (BHP, LLC), the Wolf Run Village custom townhome project provides housing for essential personnel in Watford City, including city and county staff, teachers and emergency responders. The development includes six buildings, each consisting of seven units, for a total of 42 one- and two-bedroom townhomes and apartments.
About Champion
Troy, Michigan-based Champion Home Builders, Inc. is a leading brand in off-site residential and commercial construction which, through its operating subsidiaries, manufactures buildings at 30 facilities in North America and the United Kingdom. Champion-built homes are sold through a network of more than 1,000 builders, retailers, and developers located throughout North America. Champion Commercial Structures, a division of Champion, specializes in multifamily, commercial and industrial modular construction serving developers, builders and large value institutional clients. The Champion Commercial Family operates in the US (Champion Commercial Structures), the UK (Caledonian Building Systems) and in Canada (Gibraltar Industries).