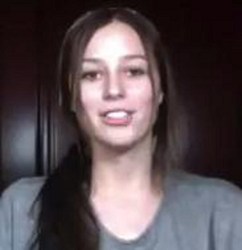 (PRWEB) March 18, 2014
"The first thing you want to do is to get a Capo and put it on the second fret of your guitar," says Zollars. Paige jumps right into this easy guitar lesson by going over the chords that will be used for the verse which are; G, D, Em and C, which she demonstrates how to play. Next she demonstrates the strumming for the song, which she explains as; down-down-up-up-down-up-down-up, this is counted as 1-2-3-E-&-4-E-&-A, and the sequence is repeated once for each chord. Next Zollars goes over the pre chorus, which she says uses the chords D, Em and C and explains that the strumming is the same as the verse except the strum is cut in half for the D and Em and that this sequence is played twice and on the second time you play C you do the strumming pattern twice. Finally Paige go's over the chorus, which she says is the same chord progression as the verse, except with different timing and strumming pattern. She explains the strumming as; G down-down-up (1-2-&), D down-down-up (3-4-&), Em down-down-up (1-2-&), and C down-down-up (3-4-&). Guitar TAB's and chord charts are available for this easy acoustic guitar lesson at SongTabs.com.
A Capo, short for capotasto, which is Italian for "head of fret board," is a device used on the neck of a fretted instrument to shorten the playable length and raise the pitch.
Adele Laurie Blue Adkins, aka Adele, is an English singer/songwriter from Tottenham England. She was offered a recording contract from XL Records in 2006 after posting a demo on MySpace. Since then Adele has released two studio albums and made numerous television appearances. She has been awarded 8 Grammy's and is the first person to lead the Billboard 200 concurrently with three Billboard Hot 100 number ones.
Paige Zollars
Has been a singer and song writer for the last 6 years and performs at fairs and coffee shops in her area. She has an original song "Broken" available on ITunes and works for a company called KlabLab where she makes educational songs for the classroom.
About SongTabs.com
SongTabs.com is a great online resource for learning to easily play your favorite songs on the guitar. With several great instructors and a constant growing catalog of songs, everyone can learn to play there favorite songs.