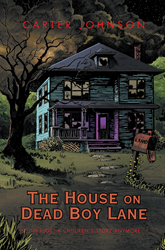 Charlotte, N.C. (PRWEB) March 20, 2014
Even the happiest of childhoods are riddled with the dilemmas of thwarting bullies, making friends and the angst of young love. These issues are the source of much of the fear in a budding teenager's life, but throw in local hauntings and you've got some serious anxiety.
In his breakout novel, "The House on Dead Boy Lane," Carter Johnson shares a passion for the horror/mystery genre mixed with the familiarity of 'growing pains' during adolescence. Bullied heavily as a child, Johnson understands the pressure that daily harassment can cause and also the motivation it can inspire.
In his youth, he turned to scary movies, always seeking reruns of old 1980s horror films on TV. Drawing on his own childhood memories, Johnson seeks to reach other adults and young adult readers who understand the sensitivity from childhood bullying.
"I try to infuse hope and happiness in with the horror to temper the story line," Johnson said. "It's not all about seeking refuge, but learning to understand that in the end it will be all right."
"The House on Dead Boy Lane" follows Derek, a young teen, as he is uprooted and moved to a small town in North Carolina. Alex, the cute blonde who lives next door, begins showing him around town and cluing him into its history. While exploring a supposedly haunted house, Alex cuts her hand on glass from a window and begins dreaming about the house frequently.
As the pair investigates further, the mysteries of the house intensify, as do the puzzles of young love.
"The House on Dead Boy Lane"
By: Carter Johnson
ISBN: 978-1-4918-3420-6
Available at Amazon, Barnes and Noble and Authorhouse online bookstores.
About the Author
Johnson began writing short stories at 11 years old and took up screenwriting soon after. After several attempts at screenwriting and filmmaking, Johnson decided the Hollywood scene was not for him. Instead, he has chosen to expand his short stories and screenplays into novels. He currently lives with his wife in Charlotte, N.C. and is working on his second and third novels.