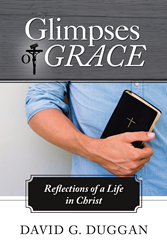 Shedding their layer of dust, these columns withstand the test of time.
Chicago, IL (PRWEB) March 20, 2014
For 20 years, David G. Duggan wrote inspiring columns in Christian publications. These essays are now published in a book exploring God's intersection with everyday life.
"Glimpses of Grace" is a collection of faith-based reflections on God's influence in the life of a practicing lawyer, single parent, son of aging parents, and sinner. Duggan's essays explain how he has found meaning in life's events and learned to trust God through life's uncertainties.
"Shedding their layer of dust, these columns withstand the test of time," Duggan said. "By adding updated commentary and arranging the articles according to biblical narrative, the book now tells a deeper and powerful story."
Duggan hopes his readers will find solace in the book's message that others struggle with the Christian faith and yet find the strength to continue along a spiritual path.
Faith topics discussed in the nearly 50 columns include, but are not limited to, self- offering, redemption, vocation and growing old in the faith.
"Glimpses of Grace"
By David G. Duggan
Price: $11.95
ISBN: 978-1-4908-1179-6
Available at: Amazon, WestBow and Barnes and Noble online bookstores
About the Author:
A retired lawyer and part-time community activist, David G. Duggan wrote essays in "Glimpses of Grace" over the span of many years for outlets such as The Living Church and Anglican Advance. He lives in Chicago, plays golf and tennis, cycles, gardens and tries to keep out of trouble. He has one son, with a recently completed master's degree in business administration, who lives in Los Angeles.