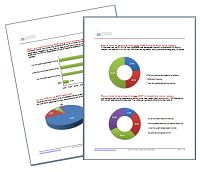 Approximately 41% of respondents indicated that they have not received sufficient training to effectively do their jobs.
San Diego, CA (PRWEB) March 19, 2014
Michael Management Corporation, a leader of award-winning SAP training solutions, has released the findings from its annual SAP training survey. As the largest independent SAP training survey, 1230 SAP professionals provided answers regarding SAP-related issues such as training availability, delivery options, and other training challenges. The results from this survey create a comprehensive look at the SAP training landscape and focus on SAP professionals' opinions regarding SAP training in 2014. The survey provides insight into the perceptions that SAP users have about available SAP training programs in addition to their expectations and needs for future developments.
SAP Industry Expert and Mentor Jon Reed comments on some of the issues surrounding SAP training. "Reviewing the annual Michael Management SAP Training survey is always a treat," says Reed. "SAP customers still need to invest in training to protect their SAP investment. But today, motivated individuals can also take matters into their own hands. Online SAP training has opened up the option for companies to supplement or replace classroom training with more affordable options."
Over 62% of respondents indicated that they received little or no SAP training in the past 12 months, and just as in 2013, a majority of these respondents placed end-user training as most important on their list of priorities. Perhaps the most shocking statistic reveals that approximately 41% of respondents indicated that they have not received sufficient training to effectively do their jobs. SAP users report that this immense obstacle is primarily due to a lack of time for training as well as insufficient training budgets.
Cushing Anderson from IDC provides an insightful commentary and analysis of the survey's results. "About 75% of end users and IT professional received less than 20 hours of SAP training in the past year though about two thirds felt that they needed more than 20 hours of training in order to be capable to do their job. There appear to be two related issues that contribute to this gap between delivered training expectations: Identifying who would benefit from training, and determining what training is necessary. Many organizations suffer from what IDC describes as 'knowledge leakage', where individuals report that they perform tasks by role, with little understanding of the purpose or value of the activity, or the consequences of failure."
The survey shows a growing trend toward online training, as well as continued importance placed on end-user training. In answer to the question "what SAP training resources do you find most beneficial?" online SAP training was a common response with over 60% of respondents reporting they prefer online SAP training to all over forms of SAP training.
To download Michael Management Corporation's complete 2014 SAP training report, please visit: http://www.michaelmanagement.com/survey.
About Michael Management Corporation
Michael Management Corporation is a leading provider of SAP training, SAP access and recognized expert SAP consulting services. The company provides an unmatched level of SAP product expertise and consulting experience. Michael Management Corporation's online SAP training courses are used by many Fortune 500 companies around the world to train their users on SAP know-how.
Michael Management Corporation (MMC), the MMC Logo and the MMC Swoosh are registered or unregistered trade and/or service marks of Michael Management Corp. and are protected by US and international copyright laws. All other names, brands, logos, etc. are registered trade or service marks of their respective owners. MMC is not affiliated with SAP AG.