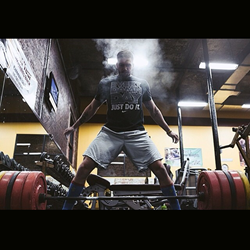 These courses are action-packed and offer ideal added skills for trainers to share with their clientele.
New York, NY (PRWEB) March 19, 2014
On Friday April 18th from 9am – 12pm AAPT instructor, Ciaran Cribbs, MS, RD, RCEP, CSCS will teach High Intensity Interval Training (HIIT). A recent trend in popular exercise programming is the use of High Intensity Interval Training (including Tabatas).
Such training has been associated with increased performance, improved fitness levels, increased resting metabolic rate, increased post exercise oxygen consumption, and decreased body fat. While HIIT is most often used with cardiovascular exercise, it can also be successfully integrated into resistance training in circuit type fashion. This presentation will examine the research behind HIIT training and will provide guidelines for integrating this type of training into clients' programs, from beginners to advanced.
Following the HIIT course, from 1pm - 4pm, Gary Mahabir, USAW for Performance, NSCA-CPT, ACE will teach Olympic Weightlifting for Personal Trainers. This introductory course offers both a lecture and hands-on component for personal trainers on Olympic weightlifting; and will look at the standard lifts, explaining and demonstrating technique and progressions for clients. Attention will also be given towards preparing clients for integrating these movements into their programs, while ensuring safety at all times.
AAPT Founder and Owner, Harry Hanson said, "these courses are action-packed and offer ideal added skills for trainers to share with their clientele. AAPT graduates who are already familiar with the hands-on approach to learning will thrive in these classes." Personal trainers interested in taking these courses should contact the NYC AAPT to inquire.
Headquartered in NYC with a branch in Boston, AAPT is a nationally-accredited occupational school renowned for its innovative hands-on approach to personal training education. AAPT's intensive 300-hour curriculum combines equal parts classroom lecture and laboratory instruction, covering subjects including exercise science, customized programming, injury prevention and business planning. AAPT proudly offers federal financial aid.