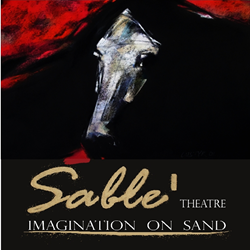 Pigeon Forge, TN (PRWEB) March 24, 2014
IM ENTERTAINMENT in association with Kassaev Entertainment is presenting the opening of a brand new, family friendly show: "Imagination on Sand" in the newly renovated "Sable' Theatre," in Pigeon Forge, Tennessee.
The Theater:
Features a center ring surrounded by seating for up to 900 persons and an adjacent horse stable complex. Renovations are underway and on schedule for the GRAND OPENING, May 3rd 2014. A SNEAK PREVIEW is scheduled for April 18th. Sable' Theater is equipped with the latest, state of the art lighting and sound equipment, ensuring that every aspect of the audience's experience will be World Class. Sable' Theater is located in the heart of The Smokey Mountains, near Dollywood Theme Park, at 125 Music Mountain Drive, Pigeon Forge, Tennessee.
The Venue:
Pigeon Forge, is a small mountain town in Sevier County, Tennessee, located in the southeastern United States. Situated just five miles north of the Great Smoky Mountains National Park, Pigeon Forge is primarily a tourist destination.
Attractions and events in Pigeon Forge include the Dollywood theme park, Titanic Museum, the Southern Gospel Museum and Hall of Fame, the Country Tonight Theatre, the Lumberjack Feud, the Comedy Barn, WonderWorks children's museum, Biblical Times Dinner Theater, Smoky Mountain Opry, Dixie Stampede, Zorb, Flyaway Indoor Skydiving, The National Elvis Museum, NASCAR Speedpark, and seasonal events such as Winterfest and has become the southeast mecca for car and truck enthusiasts. The calendar of car and truck show events runs from April through September. These attractions and the natural beauty of the area draw approximately 11 million visitors each year.
The Show:
"Imagination on Sand" is a magical story brought to life by performing artists from around the globe, galloping horses, trick riders, dancing, humor and romance, tied together with "traces of sand."
Each scene in the show is interconnected by a captivating live creation by an internationally celebrated Sand Artist. The artist creates images in sand that mysteriously "come to life" on the stage.
This show is presented by world renowned riders, dancers and other performers. The performers combine their talents to deliver an inspiring and enchanting performance that will stimulate the imagination and leave the audience with a lasting impression of skills not commonly witnessed in the United States.
The Producer:
Imagination on Sand is produced and directed by distinguished master horse trainer, Igor Kassaev. For decades, Igor has provided his talents to such entities as Ringling Brothers, Cheval Theatre, Gill St Croix (Cirque du Soliel'), and others. Igor is the recipient of the coveted "Gold Clown Award" presented by the Festival International du Cirque de Monte-Carlo (International Circus Festival de Monte-Carlo) This award is bestowed upon the best of the best circus acts in the world.
The Music:
Is composed by award winning songwriter and producer, Mark L. Carman. Carman is an American music producer, songwriter, musician and entertainment executive. He has appeared as a musician, vocalist or producer on more than 2,800 recordings and has provided his services to some of the top names in the entertainment industry in various roles ranging from producer to promoter. Some of his credits include: Alabama, Shenandoah, T. Graham Brown, Trace Adkins, Jimmy Fortune, Billy Walker, Marty Raybon, The Judds, Billy Joe Royal, Helen Reddy, George Jones, Alan Jackson, Rebecca Holden and more.
Mark is a member of BMI (Broadcast Music Incorporated), the GMA (Gospel Music Association), the CMA (Country Music Association), and he is a voting member of The Grammy Awards. He is a co-founder of IAIRA (The International Association of Independent Recording Artist) Carman has produced over 20 'Top 40' recordings. He is a decorated Navy Veteran and former police officer.
Contact:
Media Inquiries: Scott Orchard/Director of Marketing
Sable' Theater
125 Music Mountain Drive
Pigeon Forge, Tennessee 37863
Phone: (865) 365-0780 ext. 710 / Toll Free: (866) 272-6888 / Mobile: (757) 805-1851
Email: s.orchard(at)sableworld(dot)com / Web: http://www.sabletheater.com