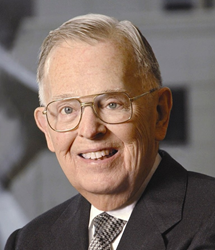 Kansas City, MO. (PRWEB) March 18, 2014
James Evans Stowers, Jr., a philanthropist and investment management innovator who dedicated his life to helping and improving the lives of others, died yesterday, March 17, from natural causes following a period of declining health. He was 90 years old.
As founder of Kansas City-based American Century Investments, James "Jim" Stowers, Jr. built a leading investment firm serving millions of investors and employing 1,300 people worldwide. Using the wealth earned from his investment management company, he later established and endowed the Stowers Institute for Medical Research, a state-of-the-art biomedical research facility focused on finding cures for cancer and other gene-based diseases.
"To call Jim Stowers a 'visionary' would be an understatement," said Richard W. Brown, chairman of the board of American Century Investments and the Stowers Institute for Medical Research. "For Jim, creating new knowledge was the most powerful contribution he could offer mankind. Throughout his whole life, whether as businessman or philanthropist, he thought about making things better for other people."
Stowers founded his investment firm in 1958 in a one-bedroom apartment in Kansas City. Relying on $100,000 in seed money from 24 investors and initially offering only two mutual funds, American Century Investments – then known as Twentieth Century – has become a global asset management firm serving individual and institutional investors. Today, assets under management are approximately $141 billion.*
"Jim Stowers was a pioneer in the worlds of investment management and personal philanthropy and the entire American Century Investments family mourns his loss," said Jonathan S. Thomas, president and chief executive officer of American Century Investments. "He was an unpretentious man of great vision, an investment innovator with a driving passion for helping investors achieve financial success. As the living embodiment of our company's Guiding Principles, Jim's enduring legacy will be the positive example he set for everyone who ever had the pleasure of meeting and working with him."
In reflecting on the origins and success of his company, Stowers once wrote, "From the start of our company, we had a dream. That dream was to try to offer people only the best products and services – second to none." In addition, Stowers wrote, "It was my belief that if we helped make people successful, that they would in turn make us successful."
It was this simple understanding of human nature, coupled with the unfailing optimism inherent in his personal philosophy "the best is yet to be," that guided Stowers through the challenges of life. When both he and his wife, Virginia, were diagnosed with cancer, Stowers turned the experience into something positive by creating the Stowers Institute for Medical Research in 1994.
"The Institute has been incredibly fortunate to benefit from the unique combination of Jim and Virginia Stowers' vision, generosity, and determination," said Dave Chao, president and CEO of the Stowers Institute. "We are all deeply saddened by Mr. Stowers' death and will miss the enthusiasm and optimism he brought to the unique research organization bearing his name. All of us here at the Institute are committed to pursuing our founders' vision with the same focus and resolve that Jim himself showed time and time again."
In describing his reason for starting the Institute, Stowers said, "My wife and I wanted to give back something more valuable than money to the millions of people who made our success possible, and we think that through science is the best way we can do it." In an unparalleled act of generosity, they created a $2 billion endowment for the Institute comprised of cash gifts and a more than 40 percent equity ownership stake in American Century Investments.
Stowers is survived by his wife, Virginia, three adult children and their families: Kathleen Stowers-Potter, her husband, Jim Potter, and their children Lauren, Ryan and his wife, Kara, and Alex; James Stowers III and his wife, Michele, and their children Layne and James IV; and Linda Stowers and her son Alex.
He is also survived by his brother Richard W. Stowers, Sr., Richard's wife, Dorothy, and their children Susie, Richard Jr. and Frank. He was preceded in death by a daughter, Pamela, in 2010. Arrangements are pending. In lieu of flowers, the family requests donations be made to the Stowers Institute for Medical Research (http://www.stowers.org/support/hope-shares).
About American Century Investments
American Century Investments is a leading privately-held investment management firm, committed to delivering superior investment performance and building long-term client relationships since 1958. Serving investment professionals, institutions, corporations and individual investors, American Century Investments offers a variety of actively managed investment disciplines through an array of products including mutual funds, institutional separate accounts, commingled trusts and sub-advisory accounts. The company's 1,300 employees serve clients from offices in New York; London; Hong Kong; Mountain View, Calif. and Kansas City, Mo. James E. Stowers Jr. founded the company and Jonathan S. Thomas is president and chief executive officer. Through its ownership structure, more than 40 percent of American Century Investments' profits support research to help find cures for genetically-based diseases including cancer, diabetes and dementia.
About the Stowers Institute for Medical Research
The Stowers Institute for Medical Research is a non-profit, basic biomedical research organization dedicated to improving human health by studying the fundamental processes of life. James Stowers, founder of American Century Investments, and his wife Virginia opened the Institute in 2000. Since then, the Institute has spent over 900 million dollars in pursuit of its mission.
Currently the Institute is home to over 550 researchers and support personnel; over 20 independent research programs; and more than a dozen technology development and core facilities. Learn more about the Institute at http://www.stowers.org.
# # #
*Assets under management as of February 28, 2014
©2014 American Century Proprietary Holdings, Inc. All Rights Reserved.