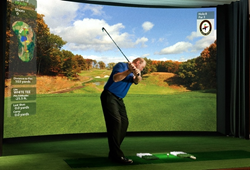 Visitors will quickly realize this isn't your grandparents' bowling alley.
Mammoth Lakes, CA (PRWEB) March 19, 2014
Traditional bowling alleys may soon be a thing of the past as new upscale bowling lounges, featuring the addition of indoor golf, open up across the country.
"Bowling and indoor golf are the perfect combination at these new facilities. Both sports are highly social and can be enjoyed by every skill level – from casual drop-ins to league players," says Todd Richardson, President & CEO of Interactive Sports Technologies. He says there is a growing demand from sports & entertainment facilities for the company's High Definition Golf simulators.
Older bowling alleys are being transformed and new facilities are springing up with a more adult-themed focus. Businesses are realizing higher profits from alcohol sales as well as attracting more corporate and private events. "These upscale lounges become a real destination for adults – whether you want to bowl, golf or just hang out," says Richardson.
One such facility opening this month is Mammoth Rock 'n Bowl, located in the four season resort town of Mammoth Lakes, California, home to one of the nation's largest, premier ski areas. Approximately 1.3 million resort guests travel to Mammoth during the winter ski season months, and another 1.5 million during the summer. "Visitors will quickly realize this isn't your grandparents' bowling alley. It's a state-of-the-art indoor recreation center complete with a lounge-type experience," said Managing Partner Dan O'Connell. "We'll have bowling, an upscale lounge with live music, fine dining, HD Golf simulators and much more."
The first floor of this new complex will feature 12 bowling lanes, a full bar and restaurant. On some weekends and holidays, late nighters will be able to enjoy cosmic bowling with laser lights and dance to tunes spun by a DJ. The menu will feature creative, eclectic choices from renowned local chef, Frederic Pierrel. "We are taking a dramatic departure from the standard fare found in traditional bowling center diners and snack bars," says O'Connell.
On the second level, three High Definition Golf simulators will instantly transport players to the greatest courses in the world, from Pebble Beach to St. Andrews. "Locals and visitors alike will soon be able to keep up their golf game all year round… on the same system used by PGA Tour Pros," says O'Connell. He also plans to offer lessons, club fitting, leagues nights, tournament and competitions like longest-drive and closest-to-the-pin.
Other features of the new facility are darts, ping-pong tables and foosball. In warmer weather, horseshoes and bocce ball will also be available off the downstairs patio.
"There will soon be another option in town for year round recreation - the ideal spot to relax in between hitting the slopes," says O'Connell. "The future of bowling alleys has arrived."