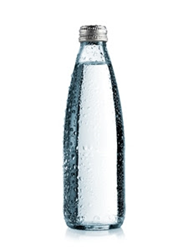 "Consumers want products that are easy and efficient to use... Investing in the right materials can make all the difference," said AnneMarie Campbell, Business Development Manager at Lightning Labels.
Denver, CO (PRWEB) March 25, 2014
Lightning Labels, leader in printing custom labels and stickers, provides a variety of materials to assist brands with waterproof bottle labeling. To inspire consumer trust, brands need to create bottled water labels that stand up to the elements.
"Consumers want products that are easy and efficient to use. After companies have put so much thought into what goes inside the packaging, neglecting a labeling strategy that reflects the brand can be detrimental to success," said AnneMarie Campbell, Business Development Manager at Lightning Labels. "If a product will come in contact with water frequently, it's a big mistake to use a label that peels off easily. Investing in the right materials can make all the difference when it comes to winning over a customer base."
No matter what type of product companies produce, it's important to use materials that will stand the test of time.
Waterproof Drink Bottle Labels Need to Be Durable:
Brands need waterproof drink bottle labels for durability. As the weather begins to get warmer, brands should focus their energy on getting drink bottle labels ready for the outdoors. Since runners and other athletes will be moving out of the gym and onto the street, water bottles are increasingly going to be moving from place to place, from cold refrigerators or vending machines to sunny pathways. These rapid temperature changes cause condensation on bottles. However, this natural occurrence shouldn't cause bottle labels to disintegrate. Labels are a vital promotional strategy, so companies need to invest in materials that stay put, like Lighting Labels' water and oil proof polypropylene BOPP label base. Brands don't need to compromise on appearance when it comes to durability. BOPP comes in many different styles, including clear, white and chrome.
It Pays to Use Waterproof Bath Product Labels:
Waterproof bath product labels are an important consideration for brands producing these goods. In the shower or the tub, bath products are exposed to water and handled consistently. It can be maddening for consumers when a label begins to shred during a shower. No one wants pieces of an ineffective label clogging up the drain or leaving debris all over the sink. Consumers will quickly abandon a product in favor of one with better packaging. To prevent this, bath product makers can consider switching to a waterproof material like BOPP that will maintain their branding, and provide the information shoppers want to see on the side of a product.
Right now Lightning Labels is offering 10% off orders of $500 or more through April 4, 2014, plus a chance to win a 70" flat screen TV using promo code MARCHTV14 at checkout. Orders of $500 or more qualify for automatic entry and for every $500 spent one additional entry is earned. The maximum discount is $1000. Free ground shipping applies to orders placed online only and shipped within the United States and Canada. This offer cannot be combined with any other offers or promotion. Visit LightningLabels.com for details. No purchase necessary.
About Lightning Labels:
Lightning Labels uses state-of-the-art printing technology to provide affordable, full-color custom labels and custom stickers of all shapes and sizes, and now offers a full line of custom packaging products. From small orders for individuals, to the bulk needs of big businesses, Lightning Labels is equipped to handle and fulfill sticker, label and product packaging projects of all types. Best of all, like the name implies, Lightning Labels provides a quick turnaround to every customers' labeling and product packaging needs. Uses for Lightning Labels' custom product labels and custom stickers include food packaging and organic food labels, wine and beverage labels, bath and body labels, and nutraceutical products, such as vitamins, essentials oils, and herbal remedies, as well as event stickers, adhesive window stickers and more. Lightning Labels strongly supports the development of environmentally friendly printing materials and carries EarthFirst PLA, a new kind of green label material made from corn instead of petroleum. While operating as a high-tech printer, Lighting Labels prides itself on its personalized customer service. Lightning Labels provides one stop shopping for all of your label and product packaging needs. For more information and to place orders online, visit LightningLabels.com. For the latest in packaging news and labeling promotional offers, find Lightning Labels on LinkedIn, Twitter (@LightningLabels), Facebook, Pinterest, and Google+.