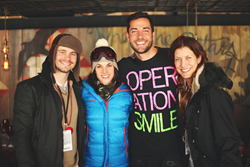 Park City, UT (PRWEB) March 18, 2014
Operation Smile, an international children's medical charity, hosted the third annual Park City Celebrity Ski & Smile Challenge at Canyons Resort on March 15th and raised over $380,000 for children suffering from facial deformities including cleft lip and cleft palate.
Billy Bush, NBC Entertainment President Jennifer Salke, 3 Moms on a Mission's Stephanie Argyros, Krista Jajonie and Daneia Sanadiki and actress Kate Walsh served as Event Chairs. Henry Salke served as Junior Event Chair for the third consecutive year, and Operation Smile Ambassador Zachary Levi's company, The Nerd Machine, served as the returning Title Sponsor. The Nerd Machine is currently running a crowdfunding campaign to create a fourth annual series of Conversations for a Cause in support of Operation Smile at http://www.iwantmynerdhq.com. Additional Event Sponsors included Canyons Resort, Argyros Group and the Rodosky family.
The ski team, led by actor Jay Harrington and Junior Event Sponsor Steve Rodosky, crossed the finish line with the fastest time and was awarded at a brief ceremony and luncheon following the race. American Idol alumnus James Durbin also performed an acoustic set and played his new single, "Parachute," from his upcoming album "Celebrate." Olympian cyclist Timmy Duggan spoke from the heart about believing that the struggles he went through growing up with a cleft lip and cleft palate helped shape his drive and toughness to become a national champion in his sport.
Over a dozen celebrities participated in the event including: Billy Bush ("Access Hollywood"), Jay Harrington ("Better Off Ted"), Zachary Levi ("Chuck"), Joel David Moore ("Avatar"), Missy Peregrym ("Rookie Blue"), Jason Ritter ("Parenthood"), Geoff Stults ("Enlisted"), Nicole Sullivan ("Cougar Town"), Michael Trevino ("The Vampire Diaries"), Alan Tudyk ("Suburgatory"), Aisha Tyler ("The Talk"), Jenna Ushkowitz ("Glee"), James Van Der Beek ("Don't Trust the B---- in Apartment 23"), Kate Walsh ("Private Practice") and Patrick Warburton ("Rules of Engagement"). Teams of six racers consisting of one celebrity skier, one professional skier, and four amateur skiers/Operation Smile donors competed in a friendly challenge to raise funds for the organization.
The Celebrity Ski and Smile Challenge recognizes the more than 200,000 life-altering surgeries that Operation Smile has given to children born with facial deformities around the world.
FOR ADDITIONAL PHOTOS, VIDEO & MEDIA: please visit http://www.operationsmile.org/parkcity.
About The Nerd Machine (http://www.thenerdmachine.com)
The Nerd Machine is a multimedia company dedicated to bringing the best of apparel, accessories, and both long and short form video content to our customers around the globe. We not only put a premium on customer satisfaction and input but also collaboration, as we believe that some of the very best ideas may come out of the community we serve. Our goal is to foster an environment where community interaction thrives, thus creating the best and most forward thinking products available on the market. And, philosophically speaking, spearheading a "mission of redefinition" that changes the global perception of what a nerd is, and thereby allow everyone to celebrate the nerd in themselves. The question is: What are you nerdy about?
About Canyons Resort (http://www.canyonsresort.com)
With thrilling adventures across thousands of acres and nine mountains of majestic terrain, Canyons Resort, a Talisker mountain destination, is Utah's largest and most dynamic ski and snowboard resort. Located in stunning Park City, Canyons is ranked as a "Top 10 North American resort" in SKI Magazine's annual reader survey. Canyons' lively resort village bustles with nine hotels including the Waldorf Astoria Park City, and two dozen dining restaurants like the award-winning farm-to-table venue, Farm at Canyons. The Orange Bubble Express, North America's only enclosed and heated chair lift; Ski Beach, a lively après ski gathering area; Iron Mountain, featuring 300 acres of new terrain; Utah's only lift-served gravity bike park and the fast-paced Zip Tour make Canyons a must-visit year-round resort. With Salt Lake City International Airport just 35 minutes away, Canyons is conveniently accessible from anywhere in the world. Learn why Canyons has long been a favorite of locals, visit: http://www.CanyonsResort.com.
About Operation Smile (http://www.operationsmile.org)
Operation Smile, headquartered in Virginia Beach, Virginia, is an international children's medical charity with a presence in more than 60 countries, whose network of more than 5,400 medical volunteers from over 80 countries is dedicated to helping improve the health and lives of children. Since its founding in 1982, Operation Smile has provided more than 200,000 free surgeries for children and young adults born with cleft lip, cleft palate and other facial deformities. To build long-term self-sufficiency in resource poor environments, Operation Smile trains doctors and local medical professionals in its partner countries so they are empowered to treat their local communities. Operation Smile also donates medical equipment, supplies and provides year-round medical treatment through its worldwide centers.