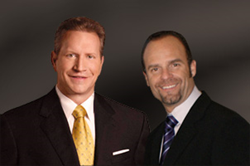 Atlanta, GA (PRWEB) March 20, 2014
Drs. Miklos and Moore, board certified female pelvic floor reconstructive surgeons of International Urogynecology Associates of Atlanta and Beverly Hills discuss their recent appearance on the nationally syndicated daytime television show "The Doctors" highlighting a unique condition known as MRKH (Meyer Rokitansky Kuster Hauser) syndrome. The surgeons had the unique privilege of interviewing, offering and surgically creating a vagina (aka neovagina) for a brave young woman, who was featured on the award-winning show, on Monday, March 17.
"MRKH is condition which leaves a woman without a vaginal canal despite having ovaries and an underdeveloped uterus. This condition occurs in approximately one in 4,500 women and for years has been treated with other disfiguring, dangerous and inferior operations," said John R. Miklos, MD, FACOG, FMRS, FACS Director, International Urogynecology Associates of Atlanta and Beverly Hills. "With this surgical advancement, we can offer a one to two-hour surgical technique which is 98-percent successful with minimal complications and postoperative morbidity. Patients have a full-length vagina immediately upon completion of the surgery and have full functional use in six to nine weeks," said Dr. Moore, DO, FACOG, FMRS, FACS Co-Director of International Urogyencology Associates.
The Davydov procedure was developed by Dr. Davydov in Russia in the 1970's; however, at that time, the procedure was done through a large abdominal incision. The technique has been modified to a laparoscopic approach (i.e. miniature abdominal incisions) which afford greater visibility as well as less pain and blood loss and a faster recovery for the patient. This technique can be utilized not only in patients with MRKH but also in just about any patients who were born without a vagina or who have had the length of their vagina shortened due to trauma or other surgeries. Most commonly these include: Androgen Insensitivity Syndrome (AIS) patients, failed neovagina surgery, vaginal prolapse surgery (1) and transvaginal mesh complication patients (2).
Drs. Miklos and Moore have one of the three busiest centers in the world — the other two being in Moscow and Milan, Italy. They perform this operation as an outpatient or 23-hour admission at both of their locations in Atlanta, Georgia and Beverly Hills, California.
1. Moriarty CR, Miklos JR, Moore RD. Surgically shortened vagina lengthened by laparoscopic Davydov procedure. 2013 Female Pelvic Med Reconstr Surg 2013;19:303-305.
2. Moriarty CR, Miklos JR, Moore RD. Lparoscopic Davydov correction of a failed gracilis flap neovagina in a patient with Mayer-Rokitansky-Kuster-Hauser syndrome with a pelvic kidney. Journal of Minimally Inv Gynecol 2013; 20,262-265.