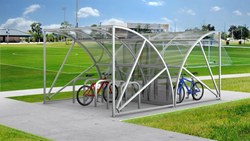 Kim Erim, Velodome West Coast representative, says that '18 of the top 50 bike commuter cities in the US are on the West Coast, including 6 of of the top 10. And, of those, five are in California. It is a bike commuting world out here.'
Clifton, New Jersey (PRWEB) March 20, 2014
Velodome Shelters, headquartered in Clifton, New Jersey, announces both the opening of its West Coast office and hiring of its new business development representative - Kim Erim. Kim will be based in San Diego, California and promote the Velodome business in California and the West Coast. She additionally serves as the Velodome manager for Social Media and internet marketing.
Velodome Shelters recently announced its new product line of bike parking shelters, bike racks and bollards. These can all be viewed at its newly designed website: http://www.velodomeshelters.com.
About Velodome Shelters
Velodome Shelters specializes in innovative bicycle parking shelters and high-security bike racks that protect bikes from the elements and deter theft. Their clean, contemporary styling makes a highly visible statement about a company or institution's values and commitment to alternative transportation.
Bicycle Parking Solutions for a Greener World™