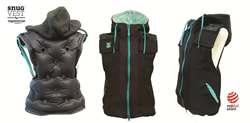 Vancouver, BC (PRWEB) April 24, 2014
One year after Snug Vest launched it's product, hundreds of vests have been sold to children, teens and adults. The young company is seeking funding to scale and grow Snug Vest, as they are determined to help many more individuals with autism & anxiety disorders all over the world.
Snug Vest has received very positive feedback for both its efficacy and design. A mother of a 9-year old high-functioning autistic boy said "We received our Snug Vest earlier this week... My nine year old son was so excited. He tried it on right away and he said it made him feel safe and huggable. Since then, he has worn the Snug Vest (for 20 minutes periods) about 3 times a day. In fact it looked so cool that my 5 year old neuro-typical child now wishes he could have autism so he would get his own Snug Vest!"
Snug Vest founder and inventor Lisa Fraser says "I'm so excited to meet the Dragons in person and get their feedback on our product and business plan; I hope to spread awareness about anxiety, autism and sensory disorders, and how Deep Pressure Therapy can help affected individuals. And, of course, make a deal!"
Snug Vest is currently for sale world-wide for both adults and children at the Snug Vest store http://www.snugvest.com. Unlike weighted vests being commonly used, pressure is adjustable to the exact amount the user needs, is user controlled, discrete, and evenly-distributed throughout the torso, and feels like receiving a big firm hug.
To learn more please contact:
Monica McMahen, Marketing & Communications
#304-887 Great Northern Way
Vancouver, BC V5T 4T5
Email:info(at)snugvest(dot)com
Phone: 1-866-530-4440